House update, end of February
Posted On February 25, 2016
So remember how I was all "One more month to go!" *exactly* one month ago? Yeah, well, whatever. Time is relative anyway. Eventually that gap will close… that pesky gap between my vision and our reality. I'm rolling with it. We are working hard, we keep our chins up, minimal tears have been shed (mostly mine, and all good and cathartic) and we are closer every day.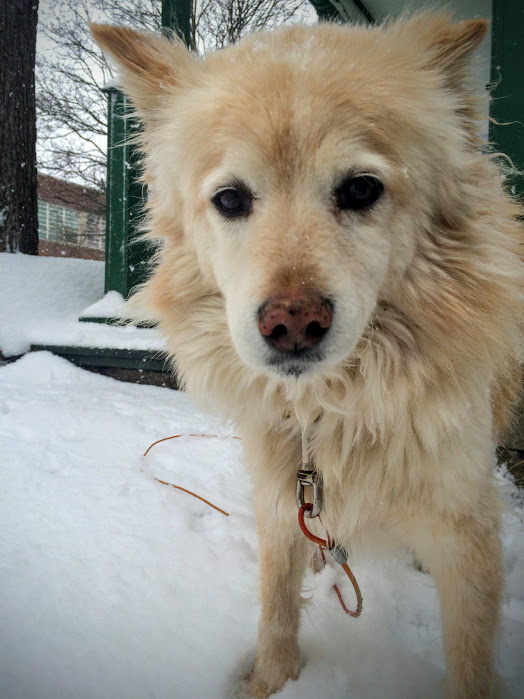 Today, along with enjoying the gorgeous snow, I was mostly confined to the apartment with my sweet kiddos who suddenly came down with the flu. Poor Asa has spent most of the day in a feverish haze. I've been restless and itchy to get to my projects, but it's been a good day and I appreciate the opportunity to slow down. Snuggles, movies, laundry, yoga, and a fair amount of writing on my part. I've got some pent up energy there! I miss my regular dates with this space. Anyway, I have some philosophical rants coming your way soon, but for now I felt like I could do another house update- likely the last post before we actually move in.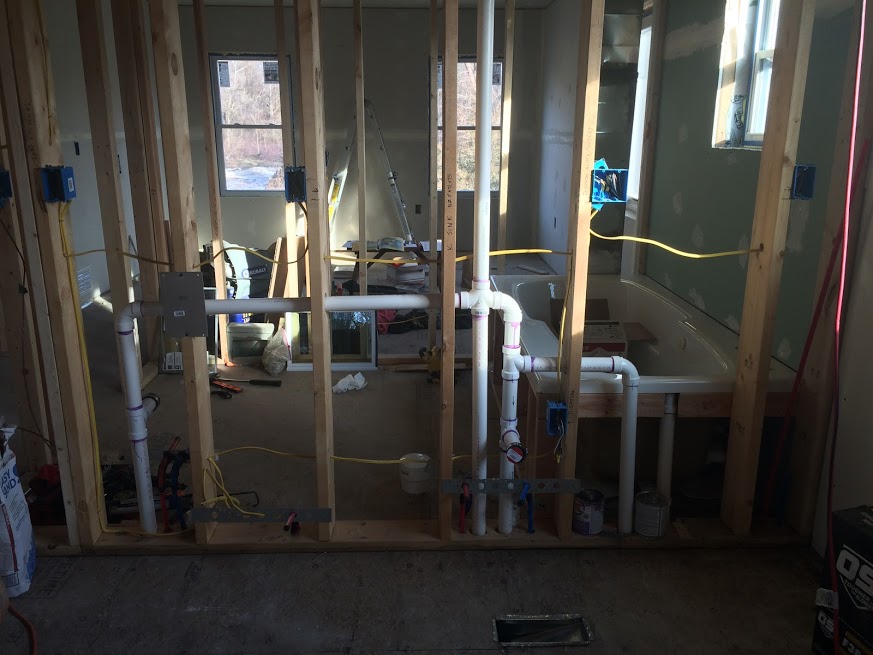 Jeff finished the plumbing, which meant that we could finish all the rest of the drywall! Everything came together pretty quickly from here. The rooms were totally divided and everything finally had its own space.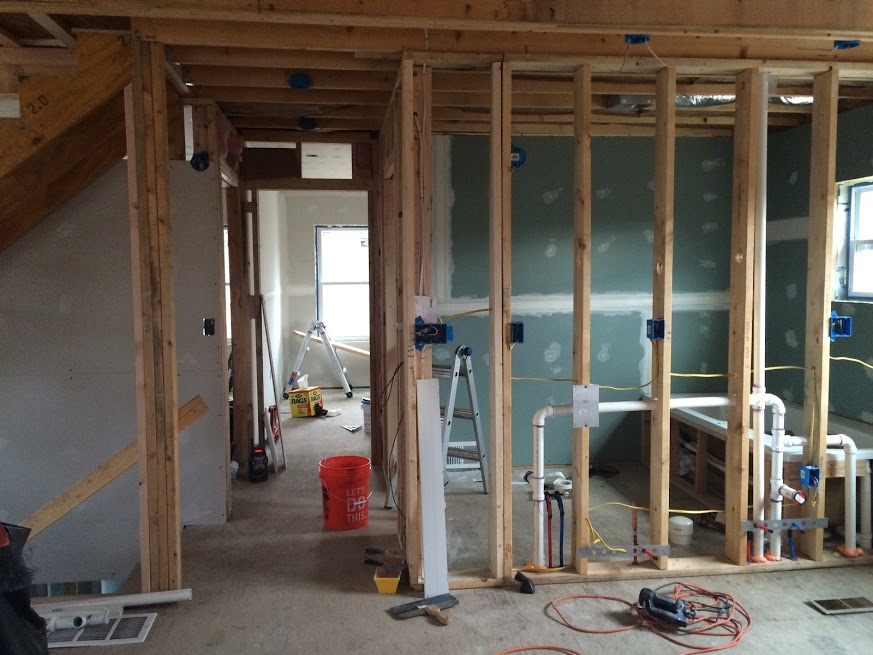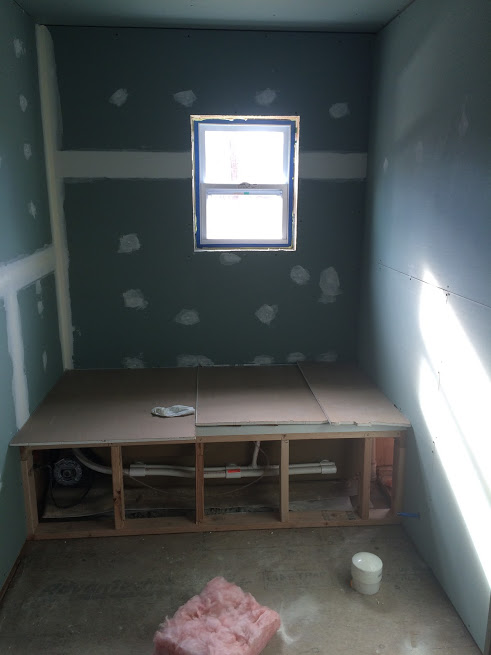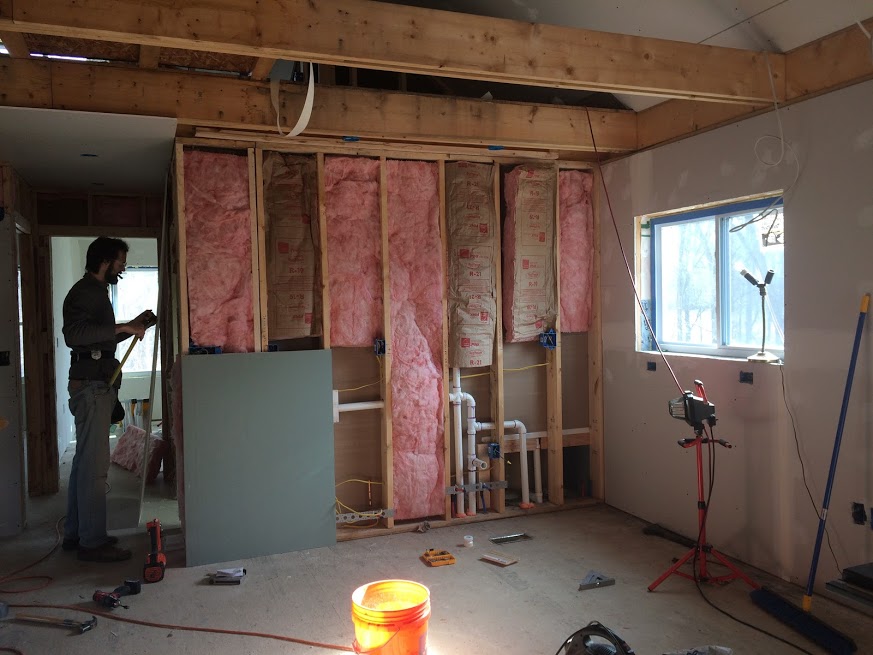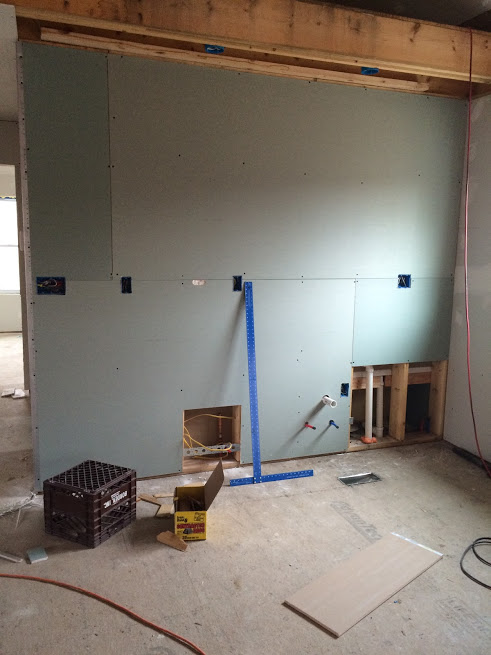 Mudding has been a good job and I'm better and better every day. However, it takes a considerable amount of time and steps to get right. The first room I did you can see the mistakes, but they lessen as you move through the house and we learned. We happily rationalize the whole thing by remembering that every bump on the wall, every minor imperfection will remind us that we actually did this. Pretty soon we will move into a new normal, something slower and more everyday, (which will be so welcome and we are more than ready) but I won't mind the tiny reminders of this incredible journey.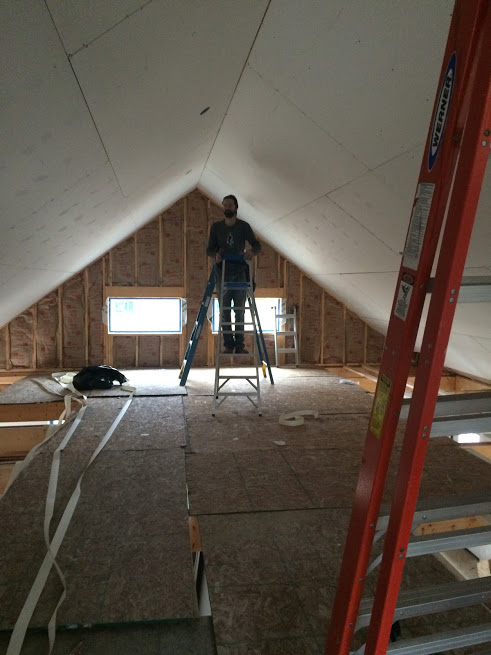 Mudding has been further complicated by the fact that we have to strategize and move this temporary floor around to get this cathedral ceiling finished. It's almost done though. We are hoping to paint it this weekend! That is, if we adults manage to avoid the plague.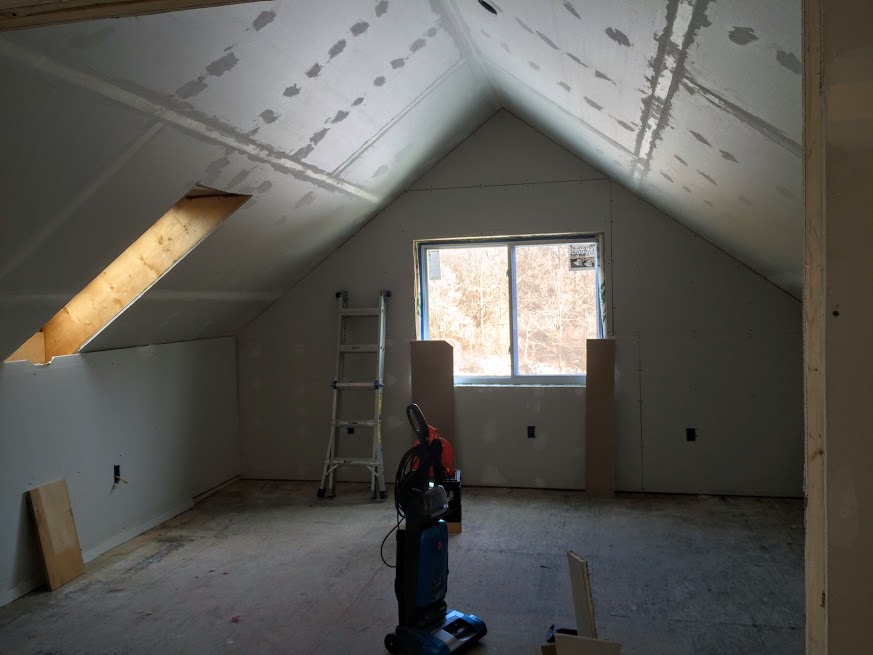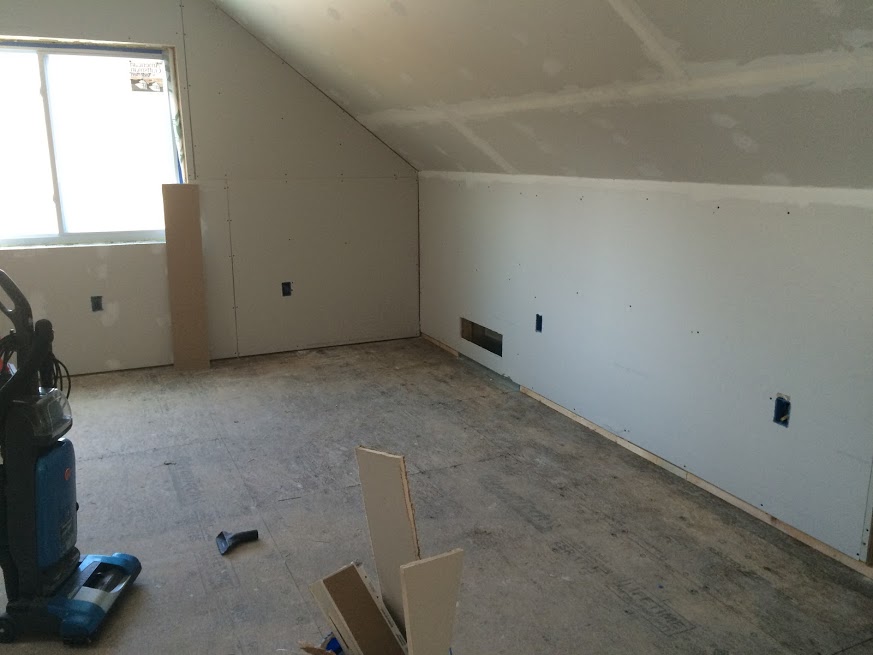 Jeff framed out the stairwell wall, put in closets, etc. It's all coming together!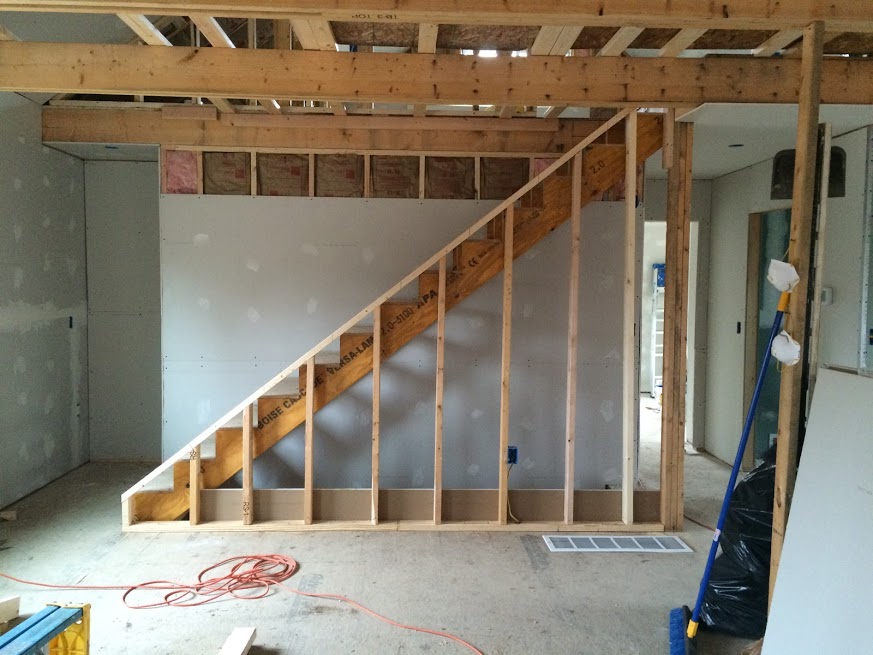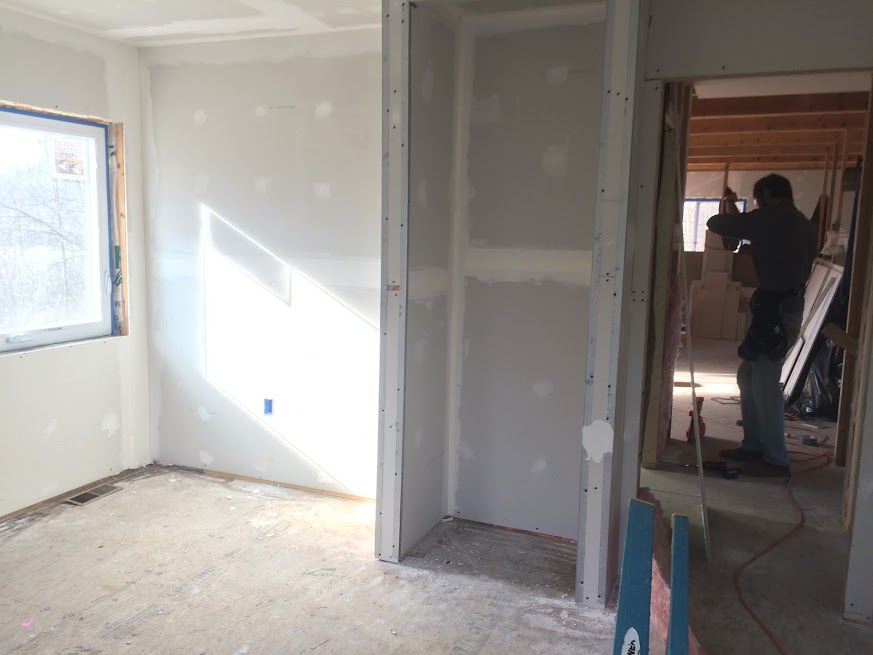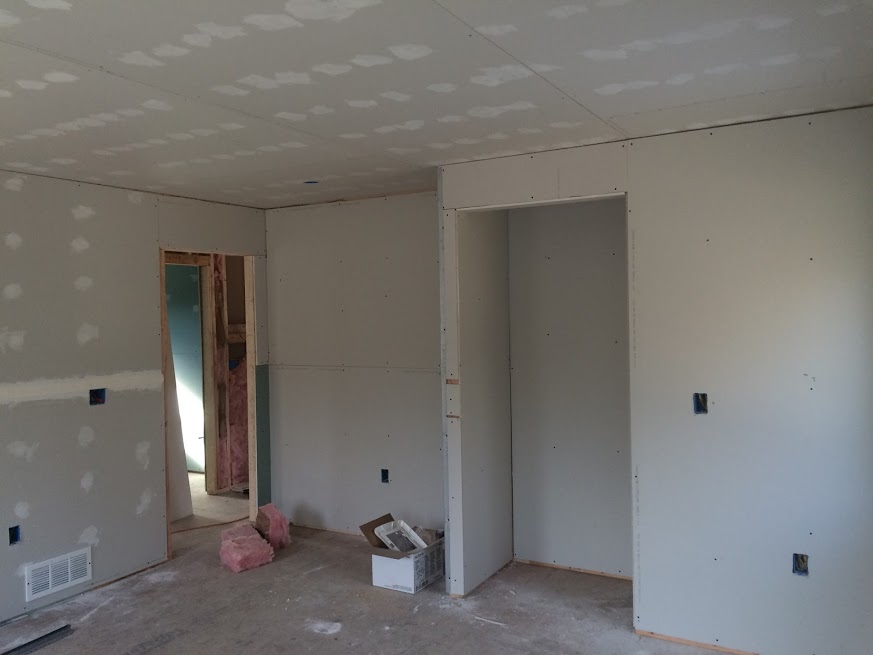 We also got the okay to insulate and drywall the walk out basement wall.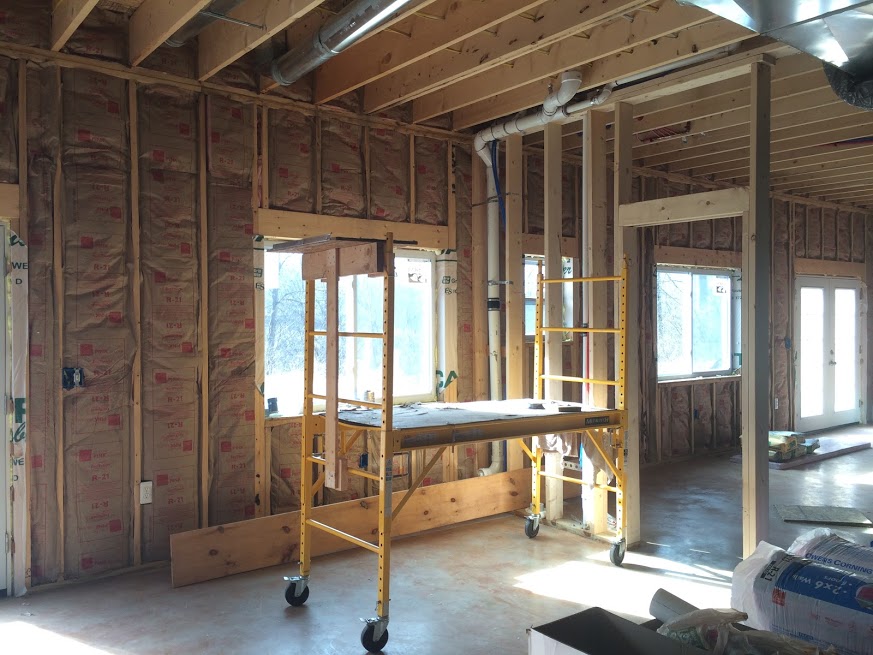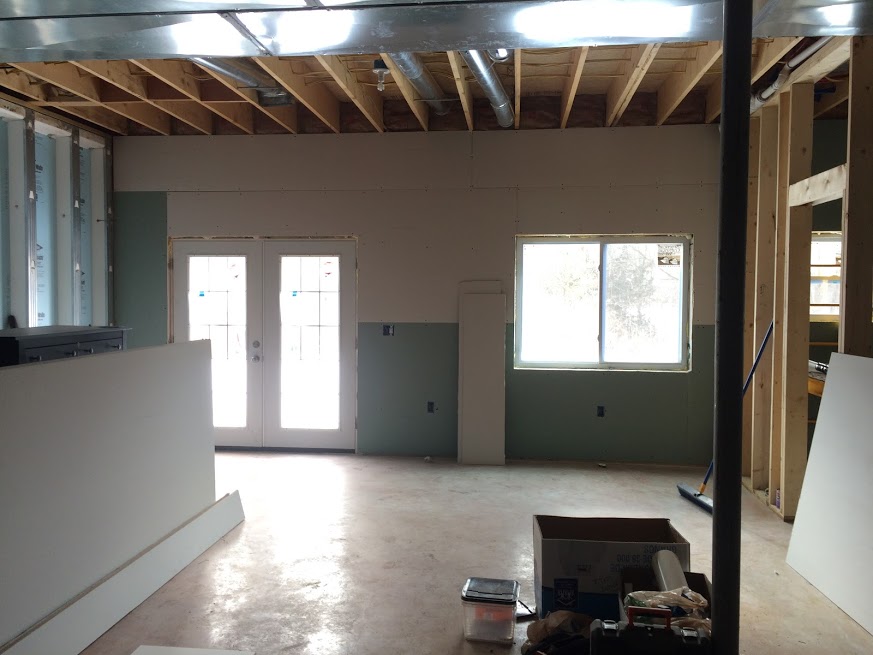 Below is a picture of the last section of wall that needs to get covered, but will have to wait until we take down the temporary flooring.
We also hooked up our water and it runs! We sent it in for a test and it passed! Drinkable, usable water. So exciting! Jeff is just as excited for a toilet, which will come shortly. Funny how your perspective changes on these little things.
Aaaand painting in the rooms that are done being mudded. This was the smaller bedroom with primer. We were so happy to see smooth walls!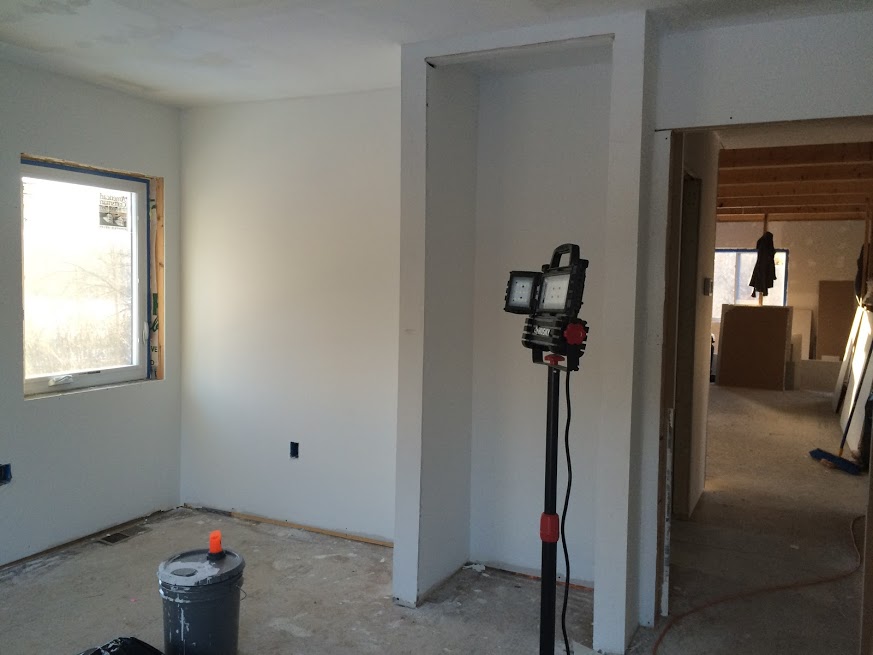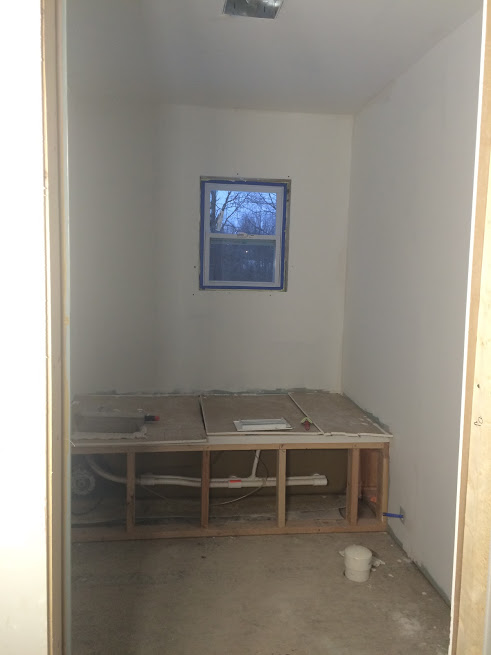 We chose a sand color to just paint everything with for now, just to keep it simple and inexpensive. I love it- it's neutral but earthy, and it reminds me of cob and my daydreams long ago about building a house in the woods with straw and mud. The real-life manifestation of my dream is a little less crunchy, but no less fantastic in my mind.
The other night Jeff and I started the flooring in the small bedroom. It's nothing fancy, just some laminate that was on sale, but it looks nice and will be really durable. It was also really easy to do once we got the hang of it! I'm just really happy with everything, can you tell?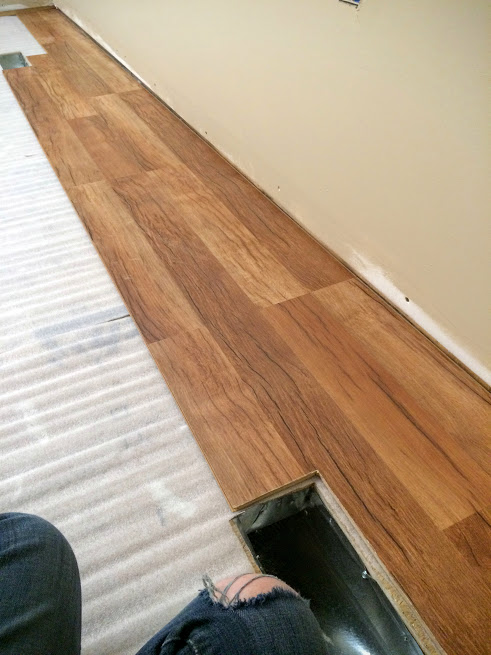 That's where we are now. The whole thing feels like watching one of those pennies go down that giant funnel wishing well in the mall. What's left now is to finish the last of the mudding and sanding, prime and paint, finish the flooring, and then install the kitchen and bathroom. Sounds like a lot, but it doesn't really feel like it at this point. If all goes well that will take another 2-3 weeks or so.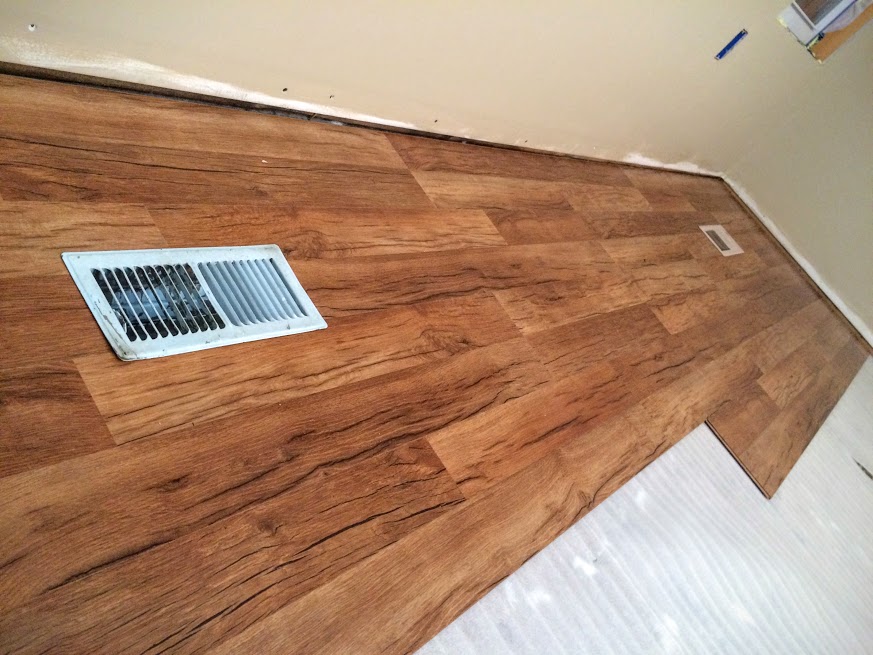 And of course there are still microgreens and hoop houses, precious daughters who turn 8 (I'm the mother of an 8-year-old. What.), and gorgeous wintry scenes that bring me some stillness in the midst of all this crazy. <3