Ahem!
Posted On September 30, 2009
It's been an eventful couple of days! My dear sister went ahead and gave birth yesterday morning, despite the chat we had the night before all about her cold (she was getting kind of sniffly and blah feeling) and how her body will likely wait and so on. Five hours of active labor and here is the sweetest little boy. They named him Max.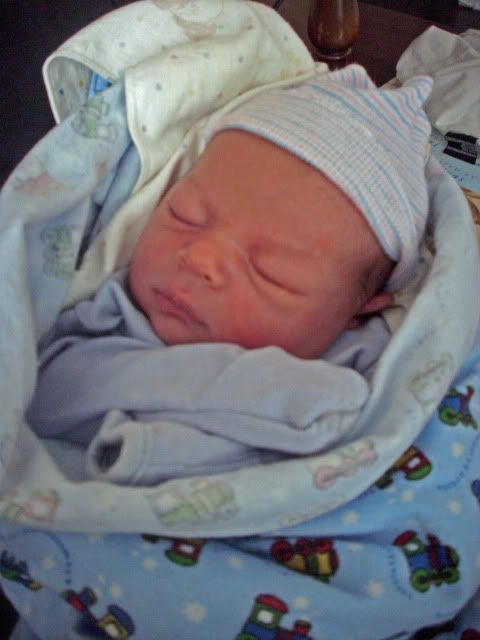 (L to R: Brother in law, Obeth; spunky and excited big sister Tuula; beautiful sister Gretchen; and little Max)

It never ceases to amaze me. Sometimes we forget this, but what else to we have in this life if not the love for each other? Being with my sister the past couple of days has really brought back memories- of labor, of those first few days, of all the infant things- that tiny curled up body and all the newness everywhere, their incredibly soft foreheads and hands, all of it… It's hard work, but there's nothing that compares to the entrance of a new life. Amazing.
The new season seemed to sweep right in just as Max entered the scene. The weather is so crisp and cool, it made me fall in love with autumn all over again. It was strange this year, I loved summer more than ever. I think it had to do with a number of things- I was mobile again after a summer pregnant and so exhausted I barely remember it, then a summer newly postpartum and not feeling as physically myself, and then this year I've been energized and active with a little girl on my hip. I have a new connection to the summer earth and what it gives me, and while I've never been a big fan of heat, I felt like I was able to get over that this year and just… sweat it out and be happy anyway. Flowy skirts and new tattoos never hurt, either.
Anyway, I was a little sad to think of this beautiful summer coming to an end, but then there's this weather! I love it. I love my scarves and the way my face feels after a good walk. I love the food that comes with this season and wanting to be warmed by it. I love tucking under a blanket each night. I love the smell of leaves on the ground and all the color! I love love love this time. It only took me a day and a new nephew to remember. Oh, and apple picking yesterday with one of my oldest friends. A bag full of fresh beautiful apples and some donuts and cider are what it's ALL ABOUT. I'm a happy Grace these days.
Becky. One of my all-time favorite people. Vera had fun at the orchard, too. She kept taking one bite out of each of the fallen apples and then throwing it back down. She does this with freshly picked tomatoes, too… Now she keeps walking around the house saying "Dohnaaaght" because she loved the donuts so much.

There's a frost due tonight, so when I got home from helping my sister this afternoon I put Vera down for a nap and did my best to harvest all that I could. It's sort of sad to think about tucking this baby away for the winter, but I'm ready for the break. I'm ready for different things- maybe I could actually finish a book and a knitting project or two! I'm also ready to start planning for next year's garden- it's going to be SO exciting.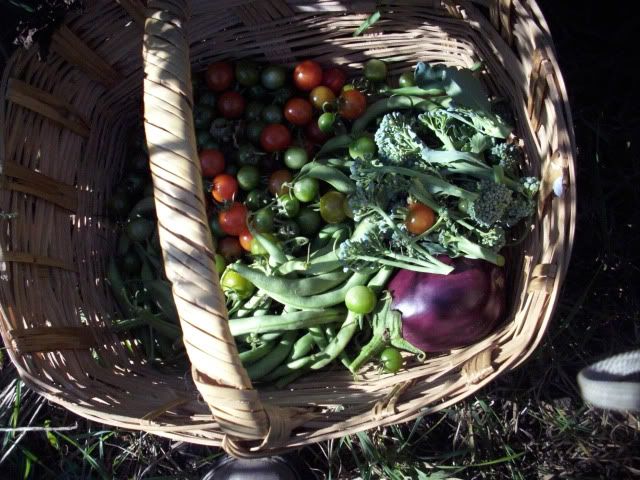 So many green tomatoes. I am excited to try this recipe. The next couple of days will be filled with canning and pesto and more pesto and saurkraut and pickling peppers and drying. I set up this area in the dining room with the dehydrator to save space in the kitchen- I named it the "Dehydration Station". I just like saying that. Anyway, right now my house is filled with the smell of rosemary and sage.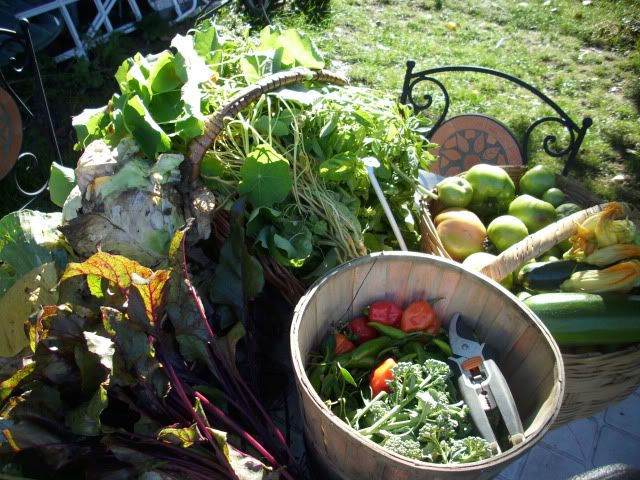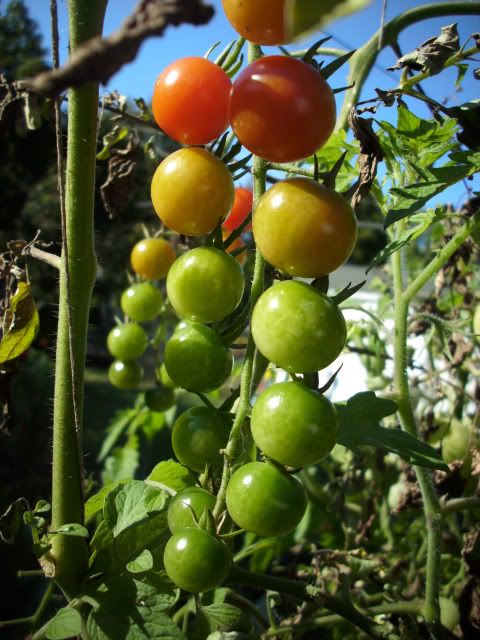 I had to include this one because I can't get over how cute Vera is in her fall clothes. I just cuddle her like crazy these days. Whattalittlemunckin! Little hats and overalls and sweaters… I can't wait to play in the snow with her.

Happy Fall everyone!
Quote of the day:
"No one who has ever brought up a child can doubt for a moment that love is literally the life-giving fluid of human existance." -Smiley Blanton