My baby is wearing socks that have ears.
Posted On September 15, 2008
This week in food:
This week I'm trying to tie up loose ends in the garden. I'll be making salsa verde, canning squash and soups and chicken stock, making a mock root cellar in our closet, drying out the last of my herb garden, and many other very fun things. I'm going out to pick grapes and grape leaves from a local farmer's collection- she grows all these grapes but doesn't have time for them). I'm also picking pears from my landlord's pear trees- great for pear sauce, pear butter, whatever… Also going back to pick raspberries from a farm so close- just 15 minutes away- and also collecting all the leaves to make my own stash of red raspberry leaf tea for the year. Then my friend is giving me some more of her tomatoes to can. It's gonna be busy, so I hope you're prepared for all the pictures to come.
This week in other news:
Tomorrow is my "test run" with little John. I'm sure everything will be fine. I've arranged to go meet my sister and a friend at this little play group at the library. My friend watches twins, and Gretchen will come with Tuula, so it'll be 5 babies. Woohoo! It'll be a good way for me to break up the day, so I'm glad I'm taking it on, although I've never traveled with two babies before. Good thing it's close. What's the worst that could happen? I've got a sling and a stroller. I'm gonna tell myself I'm a super mom lady and feel very proud all day. I also plan to go down to Farmer's market if the weather allows. Yes. With both babies. Am I crazy?
This Wednesday I'm going with a friend to see this man speak : http://www.thomaslfriedman.com/about-the-author I'm really looking forward to it.
Then Thursday is full of fun- Jeff and I are going to get food stamps, then I'm going with my sister to help clean this woman's house. We went and cleaned one room yesterday, and it was so good for me! It felt so awesome to help someone I barely knew- she's a hoarder, and has a brand new baby to boot. There is so much STUFF in her apartment. INSANITY I tell you. Anyway, I often feel like my house is a wreck, and this just proves that I'm doing fine. So yeah, we're going back on Thursday to help some more, and I'm feeling good about it.
Friday is full of harvesting goodness- grapes and grapeleaves, then tomatoes and whatever else I can fit in. Yowsa! And… that's all I can think of right now.
I think I'll take Vera and the dog for a walk. It's deliciously cool outside, and I just don't think it'd be right if I didn't get out for a while.
Sept. 14th:
Squash.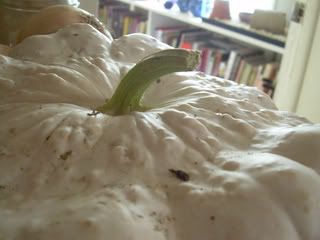 Sept. 15th:
My new "project basket". I bought this off of my sister and I love it. It's the perfect size to carry my yarn, a book, the phone, and the baby monitor out on the front porch. Perfect.

Quote of the day:
"I have long since come to believe that people only mean half of what they say, and that it is best to disregard their talk and judge only their actions." -Dorothy Day