Mona Lisas and Mad Hatters
Posted On December 7, 2008
I've had an interesting week. A good week. A challenging week. Twisted my ankle, so I've had to wear a brace on it lately. It's kind of a bummer just because I had to skip a week's worth of exercise, which I'm really enjoying lately. Endorphins and strong heart and energy boost and all. I think it's just getting to the place where I think I can exercise if I wear the brace, but I'm not going to push it because if you don't let those things heal up right then they take FOREVER and it sucks.
Hmm, let's see, next… oh yeah I went over to this guy's house to pick his brain. He's a bonafied urban farmer who lives walking distance from my house. Gretchen and I messaged him and asked if we could bring him coffee cake and get a tour. It was so great! He's got 10 kids (all grown now) and he lives in this old historic house. As we walked up there were signs that said "Thomason family farm" and stuff like that. It was great. As soon as we walked in he greeted us warmly and whisked us away to the backyard to milk the goats. He had waited for us and he said they were probably about to burst. It was all just so fun to see. It wasn't hard at all to milk the goat, either. The whole system he'd set up was so simple! He's got over 40 chickens, a ton of these adorable bunnies, and then there are the goats. There were also a bunch of raised beds on the other side of the yard. So inspiring. Then we went back inside with our babies (who got to play in this great play room) and he served us coffee with raw goats milk. We munched and talked for a couple of hours. It was a really enlightening experience. This man is particularly important to me because he's sort of the pioneer in the urban farming thing in Ypsi. Ann Arbor just got something passed that allowed city folk to have chickens, but here it's still being mulled over. He seems very hopeful, and we're keeping our fingers crossed. You can read about them here. Anyway, it was kind of funny when we all sat down after the quick backyard tour and he asked us what we wanted to know. We looked at each other wide-eyed and shrugged, realizing that we hadn't actually thought of that part yet. I quickly realized, though, that mainly I just wanted to open the veins of communication. I want to build my community. He made it clear that he felt the same way, and that he's excited to start things like an urban farming cooperative and so on. There are just so many possibilities. I know that after I saw his set up I feel that Jeff and I can really do it. We're going to volunteer our help this next spring. I'm just feeling so much purpose in my life, lately.
The house. It's happening kind of quickly again, but I think that may be kind of the nature of these things. This house that we found, you know, the "nourishing house"? Well, it looks like a real possibility. We aren't getting our hopes up too high, but we are trying for it. We need someone to rent our current house to get us out of the lease. Grr. I'm feeling a little stressed about that part. Otherwise, it's just really setting up nicely. The only bad thing is that it's on a busy-ish road, but we don't really mind it so much. Jeff also said something that made it that much better- he said that it's a good thing that we'd be out in the open like that, that way we can be that much more visible when we do all of this stuff. So we can be more activists, more likely to have the occasion to talk about it to people who walk by. We plan to garden the whole dang thing, wherever we live, and when he said that I just had vision and it just laid to rest any concern about living on a main road. Anyway, it's very exciting, but a little nerve-wracking, and I just want it to work out. If it doesn't, it doesn't. This week has been a lot about surrender, so why stop now?
December 2nd:
Beautiful snow. Winter seems to have snuck up on most of us this year. It was so mild and then BAM it was freezing. It's a good thing I don't mind it at all. Yesterday was a particularly cozy day. The snow was all fresh and it was very bright, so the house didn't feel gloomy.



Dec. 3rd:
I remember what I was thinking when I took this. Everything just looked so bleak, and I had a moment where I hoped that when Vera is my age that things look a bit different. I mean, it'll have to, right? Anyway, that hope reminded me of this story that my friend told me about her son. Their family has been doing this eat local challenge (like within 100 miles), so they've really revamped the way that they eat, and shopping for groceries is an entirely different event. One day, for some reason or another, she had to go get something at the big grocery store. As she's walking up her 4 year old says "What's this place?" and she said "The grocery store." He replied "Oh, what do they have in there?" It had only been a few months and he had forgotten the grocery store. I thought it was an awesome story, and I secretly wish that about so many things… that they would become a fuzzy memory. Oil puddles in the parking lot, the smell of exhaust, smoke billowing up from a factory, the need for stuff stuff stuff… Not that the grocery store is a bad thing, just, yeah. I dream of a simpler and less stinky future.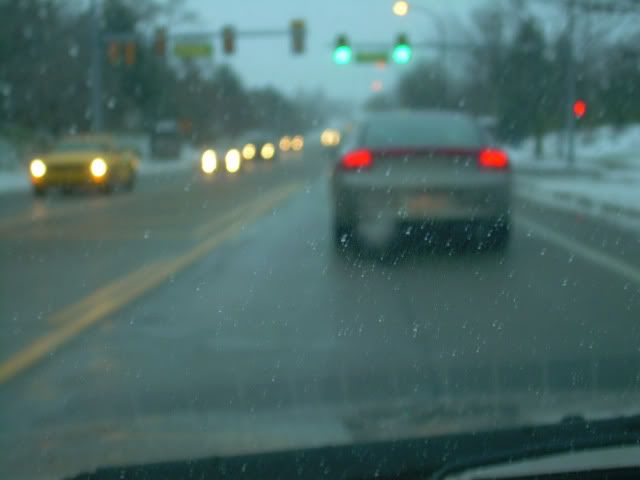 Dec. 4th:
My parent's got us tickets to go see Jonatha Brooke. It was pretty great, she's got this album that's all lyrics by Woody Guthrie, music by her. She's got a voice like you wouldn't believe. She's kind of a mix between Eva Cassidy, Patty Griffin, Dar Williams… sorta. Anyway, it was fun, and a nice treat for us. They babysat the kiddos and we all just soaked up a night out with good music.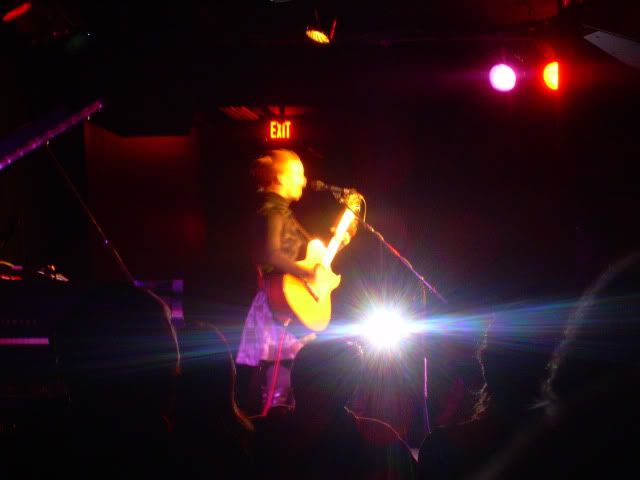 Jeff has been an amazing gift lately. So supportive and helpful. He's just such a wonderful man. I feel blessed daily to be able to lay next to him each night. Even with the stress of this week, we've still been cracking each other up and talking each other through whatever we have to talk about… It's just been good. Not to mention what a sweet Papa he is. He's so in love with her, and I just love that he's her dad.
Vera has been doing lots lately. She just started to sign "milk" and she's also started dancing a little. SO CUTE! However, she's also been sleeping like shit (like, terrible crying all night and won't let me lay her down, just… ugh.) but before the nights from hell she slept 13 hours straight one night. I knew it was too good to be true. She's just awesome, but I think one of the hardest things about being a parent is this guessing game. I don't know if she's hurting or what, it can be kind of nerve wracking. I'm gonna make an appointment with the doc for her well-baby visit, and I'll ask questions then if it hasn't improved. Poor thing, today she is SO TIRED, but she just won't be laid down. I'm gonna go watch an episode of Felicity and let her nap on me as soon as I finish this.
I've been really loving Billie Holiday lately. She plays, along with others of the time, on Jeff's new computer game, and it seriously erases my annoyance that he's hijacked the computer, yet again. She makes me happy. It's good old music.
Quote of the day:
"Growth demands a temporary surrender of security." -Gail Sheehy