We're here!
Posted On April 2, 2016
It's been one week since moving day, and I'm always amazed by how time works both fast and slow simultaneously, depending on your perspective. Since the last post we worked our tails off trying to finish everything as quickly as we could, since we knew our apartment was being rented out as of April 1st. This was stressful, not because we didn't think we could finish the house and move in time, but because so much of this process has been dictated by the powers-that-be. We weren't sure that they were going to let us move in- specifically because our long driveway is in need of widening (fire safety thing) and it was going to take more time and money than we felt we could conjure up in time. We figured, worst case scenario, we could move the whole house in and just sleep at my parents' house for a while. Not exactly ideal, but could be fun! Thankfully, we got the fire department to give us a temporary OK to move in, and that was good enough for the township too. Otherwise, it was just a bunch of finishing work to do! This was pretty bizarre after so many months of just the rawness of the project. Getting to see things go from frame and wires and fiberglass and mud to floored and painted was pretty crazy! Jeff and I kept saying things like "We might actually live here soon!"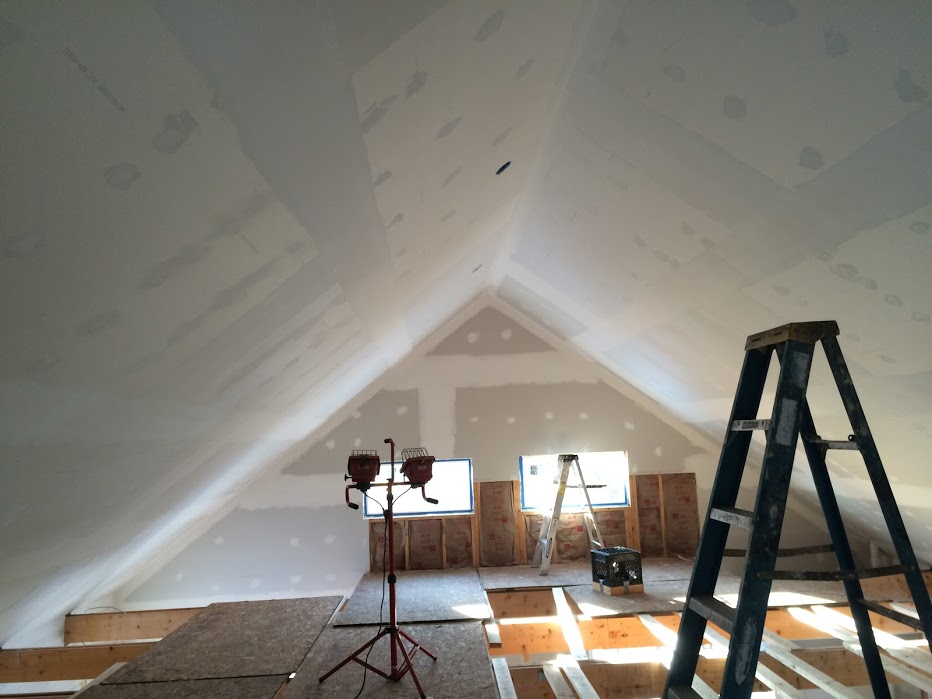 We were able to hire a friend of the family to spend two straight days on mudding the cathedral. I'd actually gotten pretty proficient at it all, but I could never just get the block of time together to get as much done as I wanted, and the cathedral being done was priority because so many other tasks hinged on its completion. It needed to be done so that we could deconstruct the temporary flooring over the tie beams, which would free us up to put up that last patch of drywall under the west windows and get to flooring the main room. He came out, did a wonderful job and gave us a great deal on it all. It was a huge relief to be able to focus on other stuff and trust it'd be ready to paint in just a couple of days. I finished up the mudding in the rest of the house, and Jeff worked on tiling the bathroom.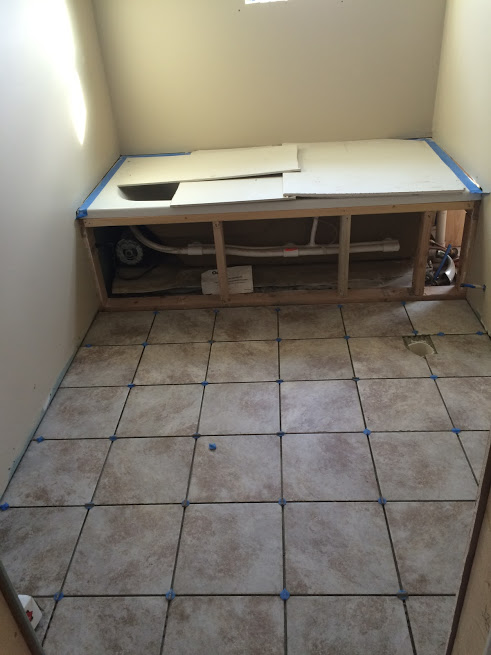 After the tiling was done, the installation of the toilet and sink was simple and we had a working bathroom!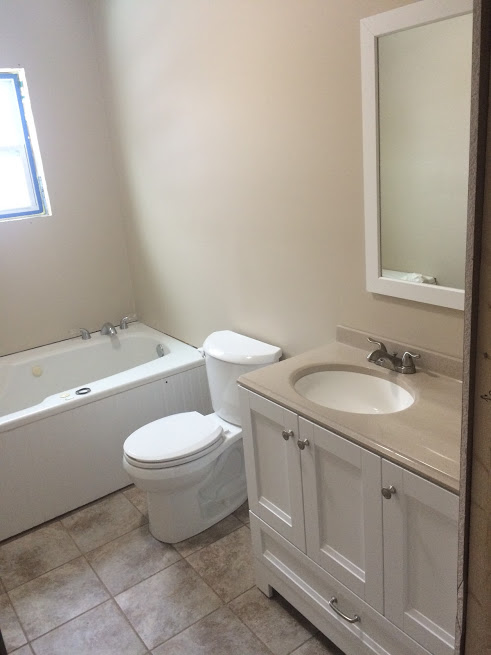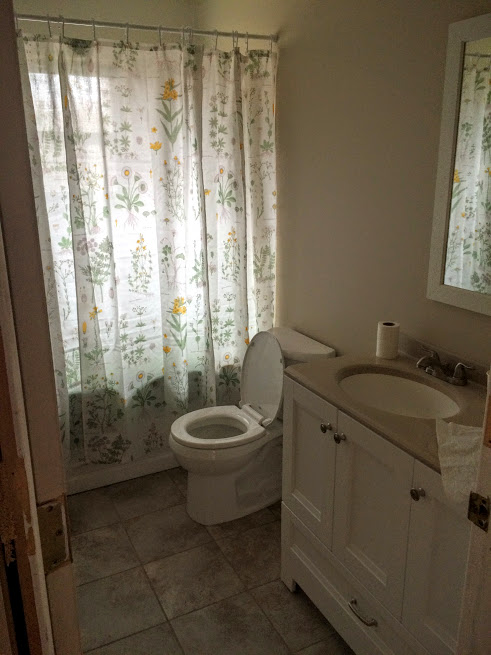 Below is a view of the main room before the temporary floor came up. We painted the cathedral and main room in just a couple of days with the help of friends. We were really excited to pull the floor down, since it'd been there since the raising of the ridge beam last summer. We've only just imagined what the big open room would be like, and now we got to have a big reveal!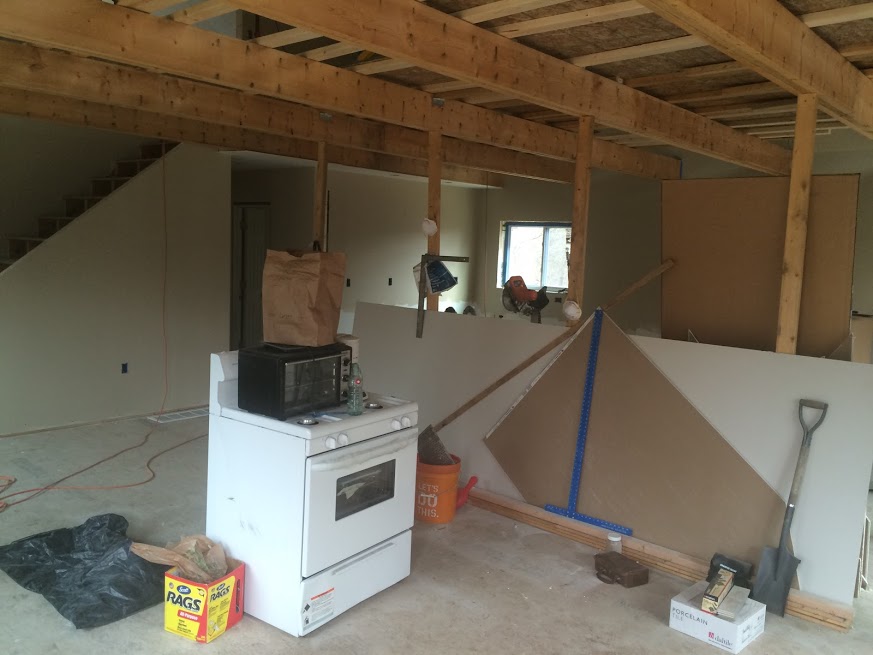 The last thing to do before tearing the floor out was putting up our ceiling fans.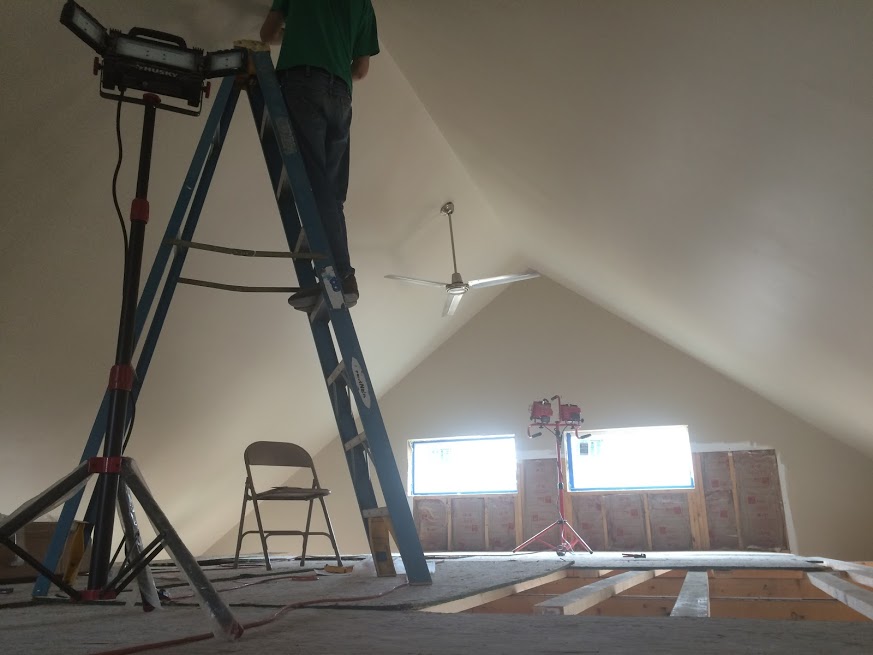 Jeff was eager to get it all up and out and he did it in just an hour or two. Next we could fill in that last sheet of drywall that had to wait because it was where the temporary floor bit into the wall. I got right to mudding and painting that last patch while Jeff worked on the last of the utilites. He finished the gas line to the stove, installed some kind of a heat regulator for the bath water that was required by code), worked on plumbing the kitchen sink, installed vents in the loft, etc. The guy is amazing, I tell ya.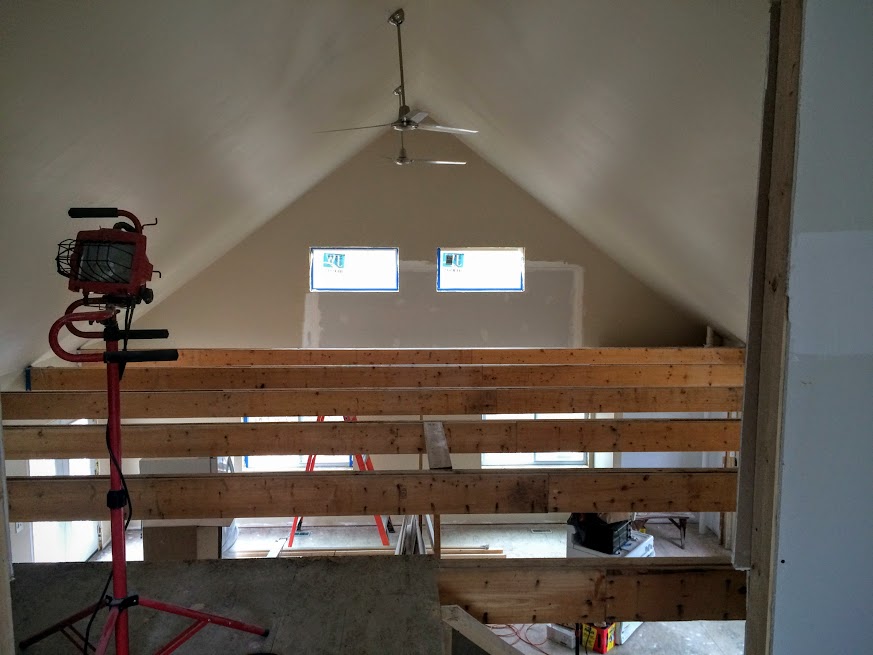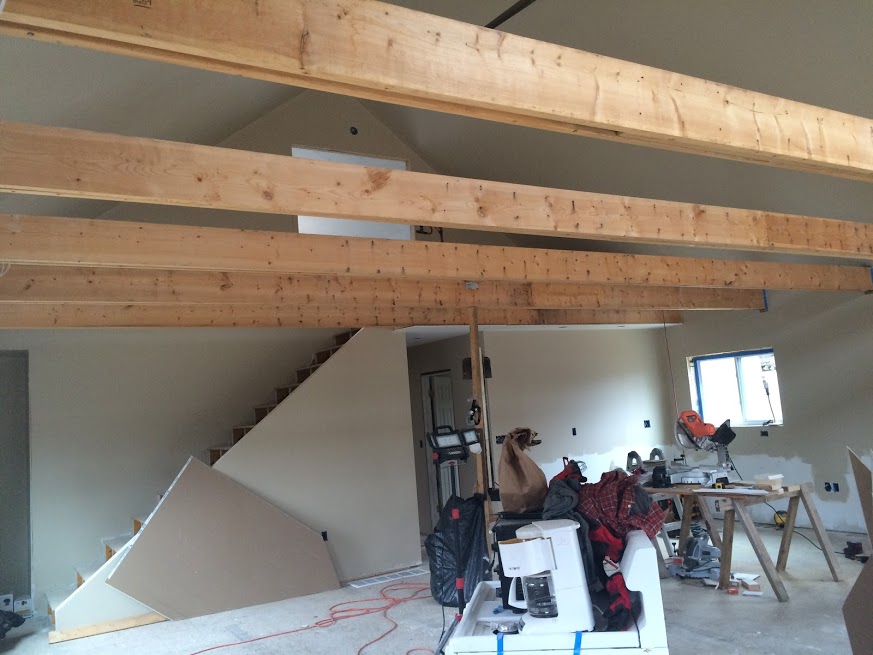 The flooring was pretty quick and painless once we got the hang of it. We tackled the bedrooms first, then had to get some of the kitchen in place that sat just on the sub floor, then we could floor the rest of the space.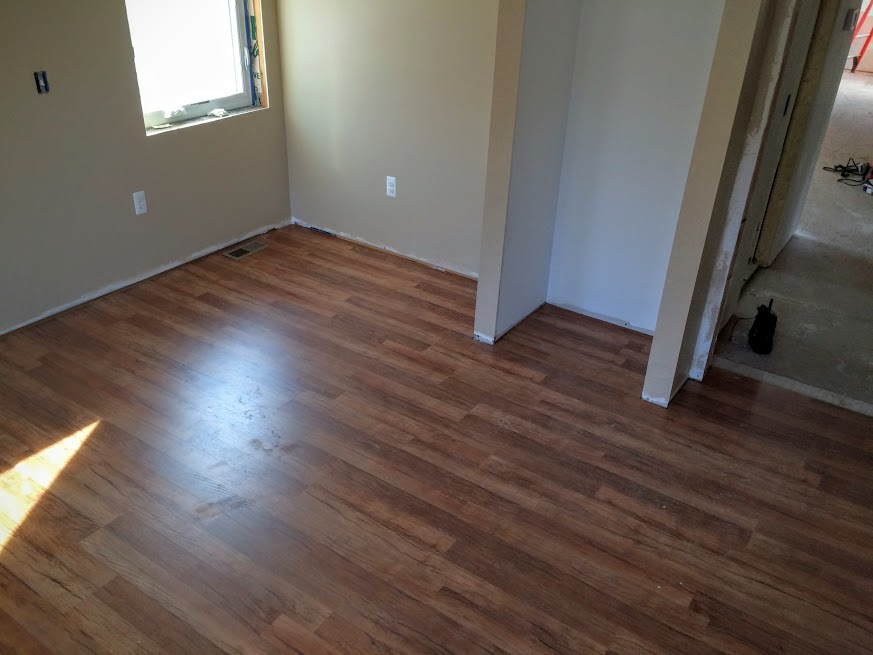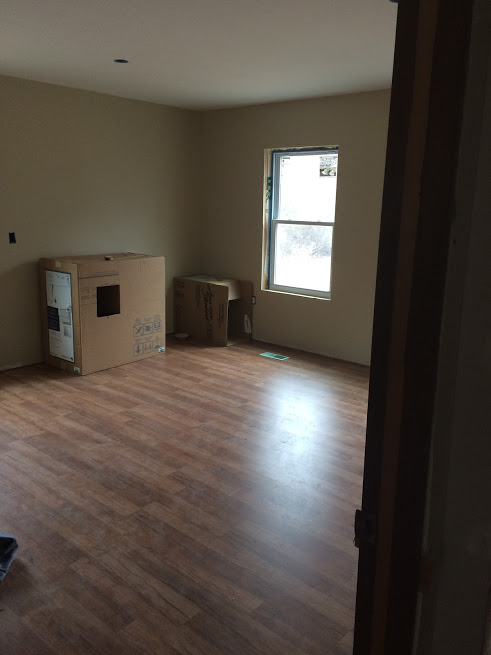 We also had to get a railing up around the loft and stairs. We had scrap wood that was going to make a temporary railing, but we ended up liking the look of it so much we opted to make it more permanent and finish it with some stain Jeff had laying around.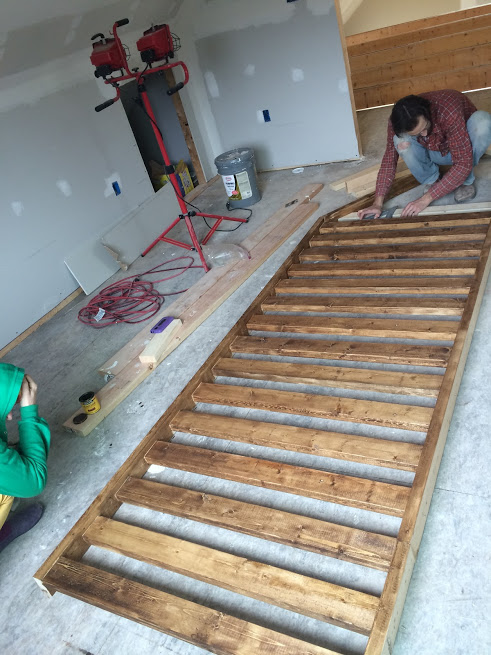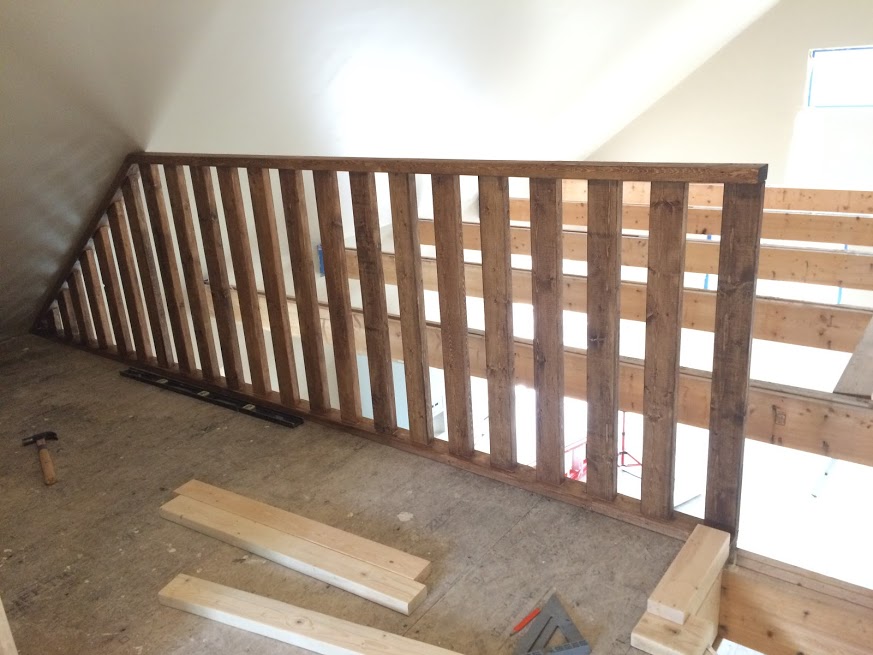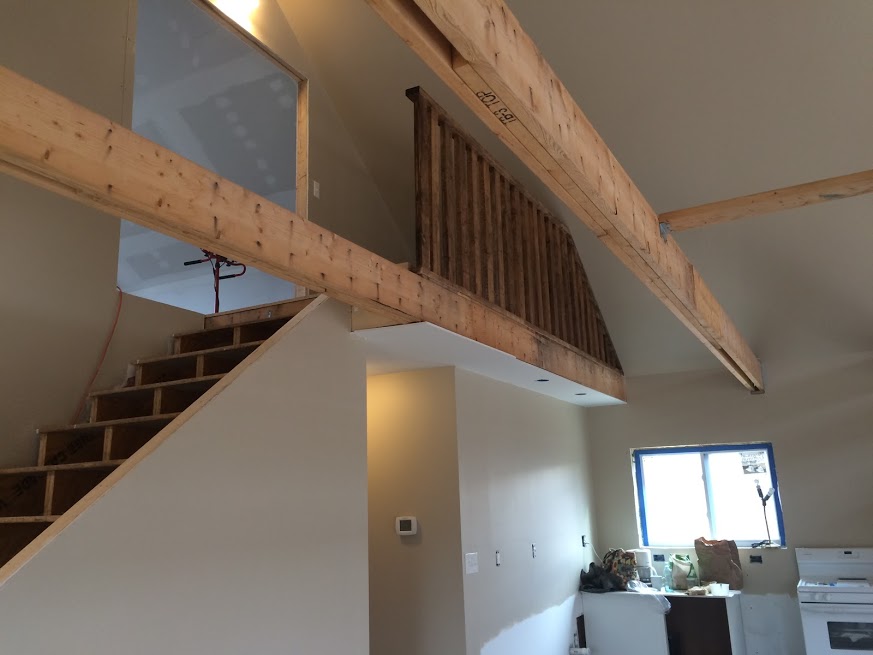 We ran out of stain before we finished, but we ended up just buying more because we realized we could finish the stairs with the same color.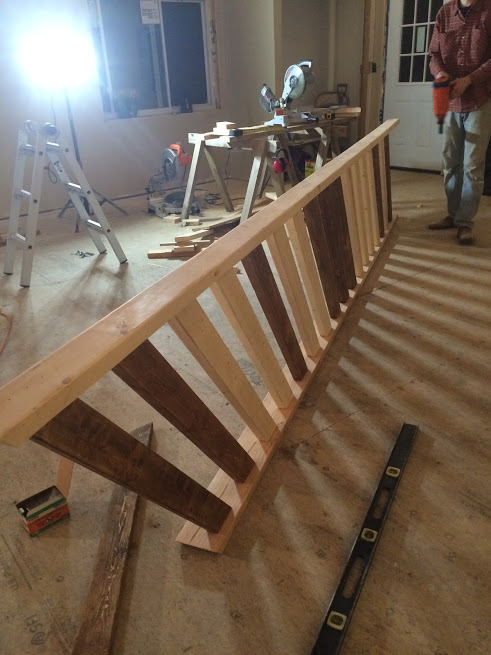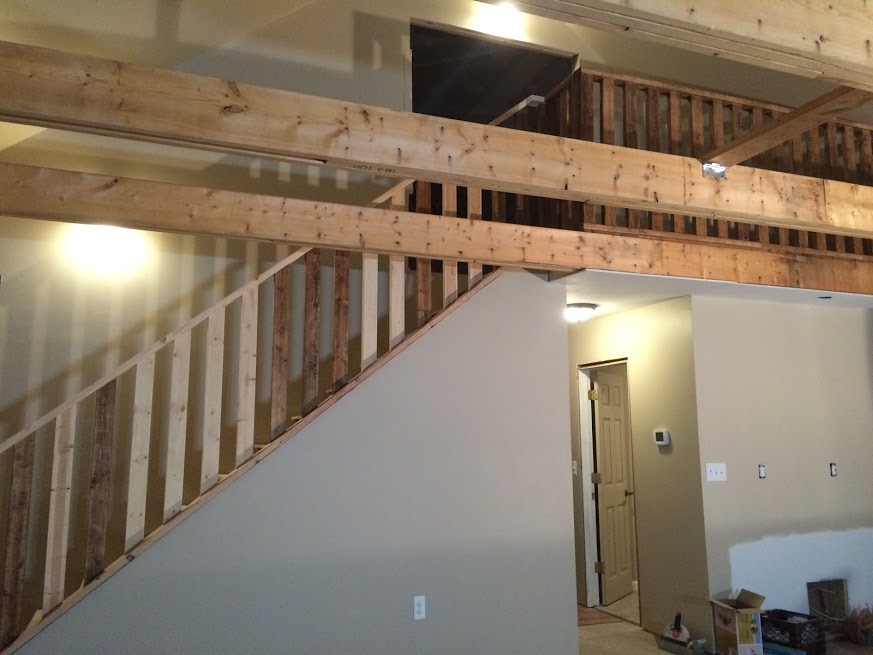 Below you can see the finished railing encasing the unfinished stairs. If it had been up to me we would have left it like that for now, but code dictates so much! One of the things we had to finish before we got the certificate of occupancy was fully encased stairs for both the stairs to the loft and the ones to the basement.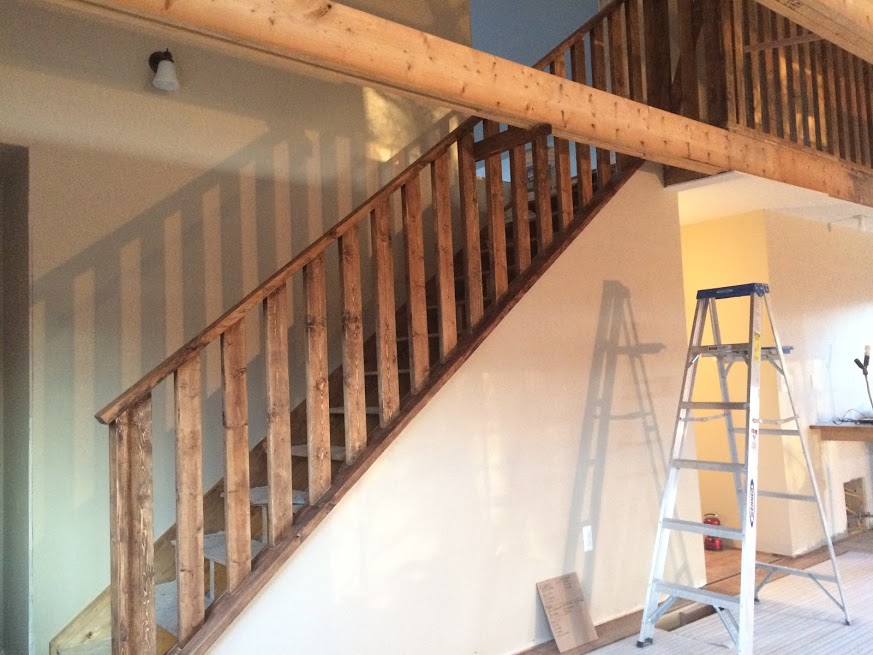 Thankfully it was just an afternoon project, and they turned out really pretty!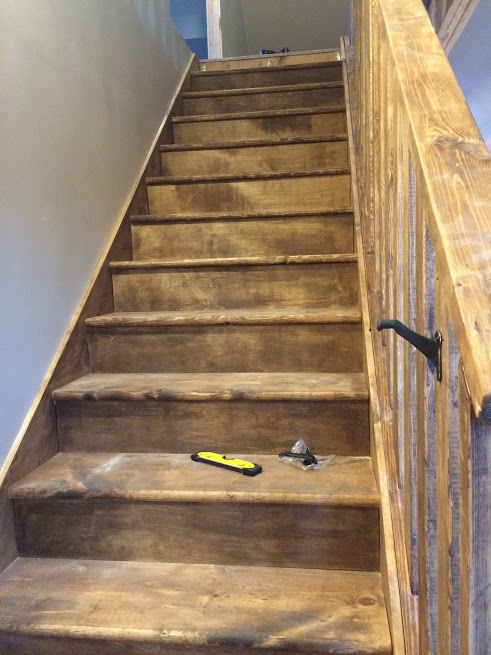 We kept the stairs to the basement pretty basic, though.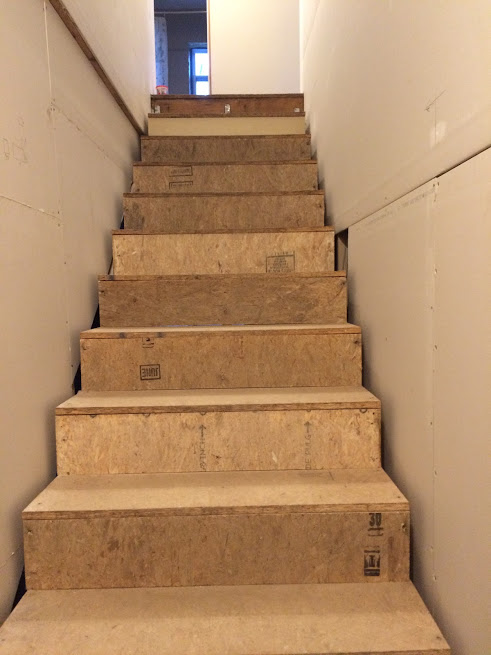 After that, Jeff moved on to the kitchen work while I focused on finishing the loft space. I opted to just prime and paint the sub floor, since it wasn't really in the budget to finish that floor yet and I don't really mind what we walk on as long as it is cleanable and doesn't give us splinters! Below is a picture of it all sanded and cleaned, and then painted with sand colored walls and a gray floor.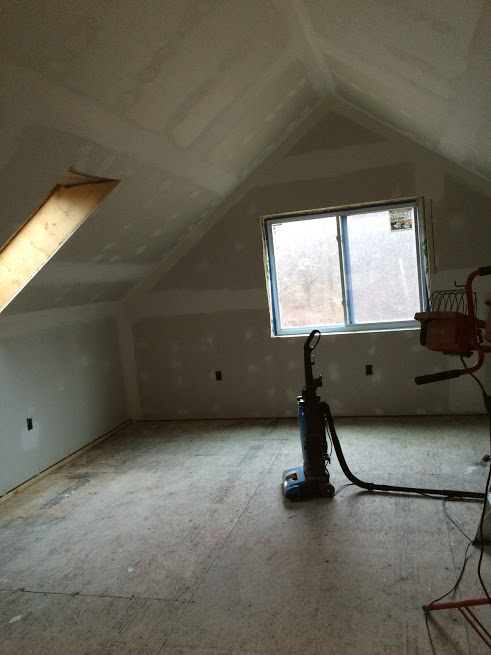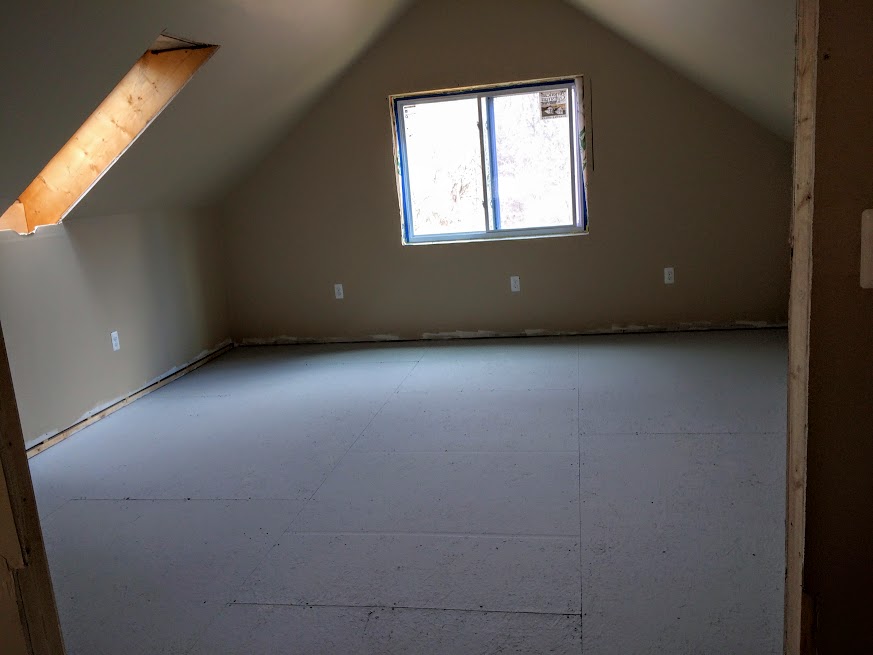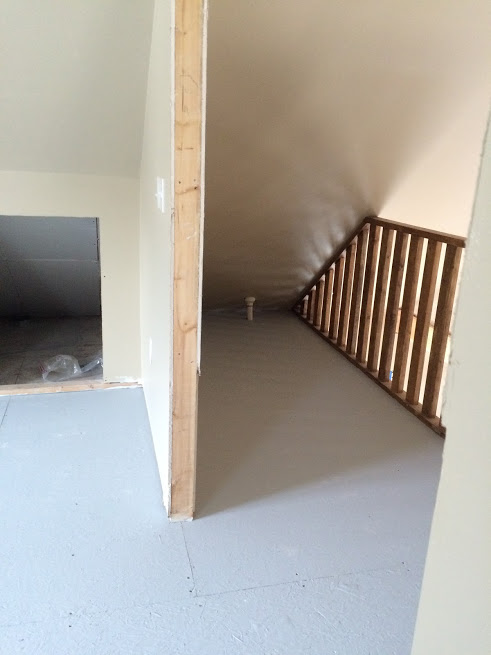 I took sneaky pictures of people from above. Here's Jeff working on kitchen stuff: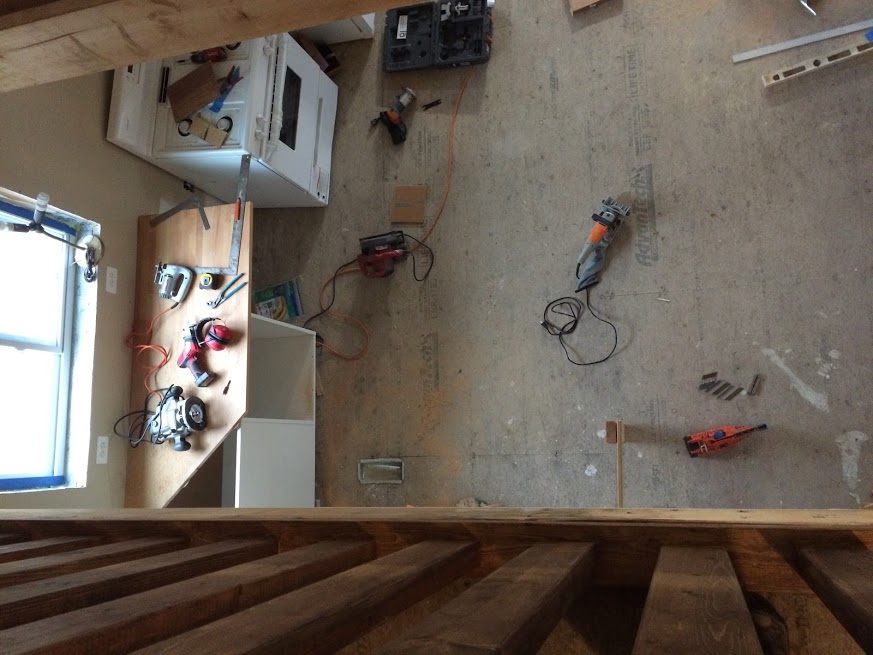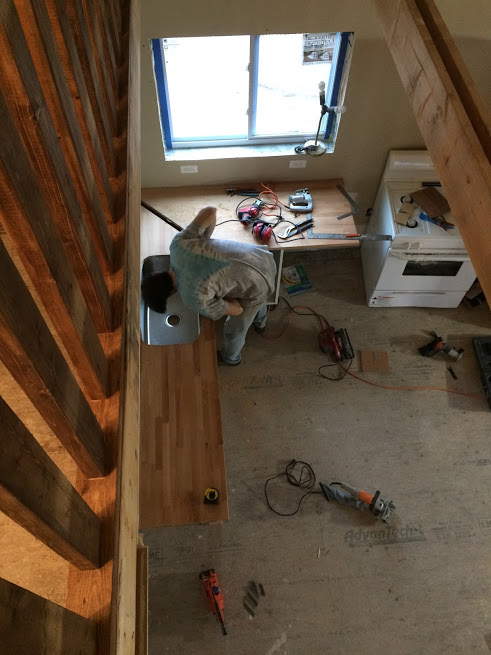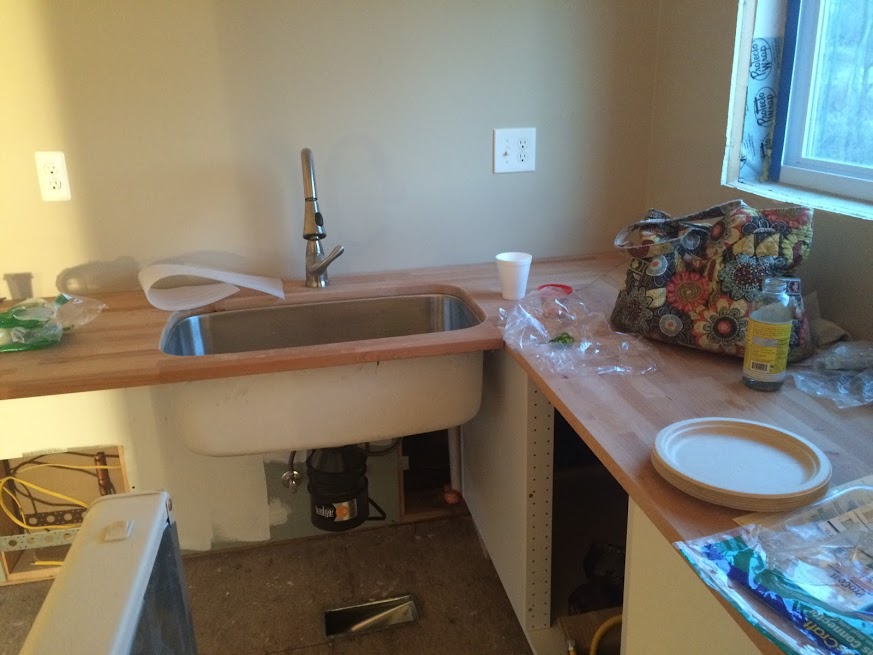 Then we were finally able to get to that flooring!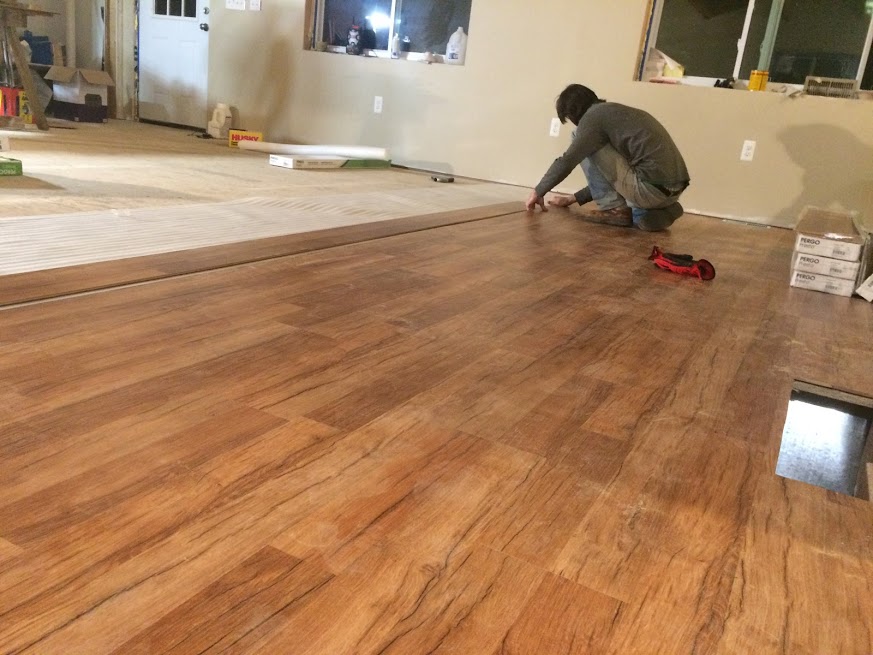 Once we got about halfway across the floor we could move the appliances in place.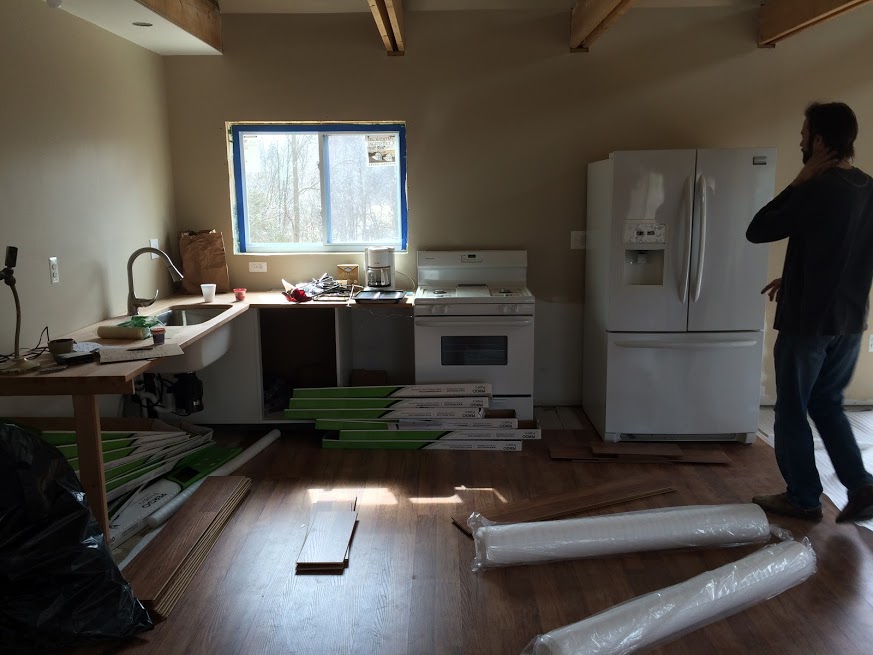 That night we moved the island that we found on craigslist up, and it all felt way too luxurious! I'm still not sure what to do in such a pretty kitchen, but I'm gonna do my best to do it justice. 😉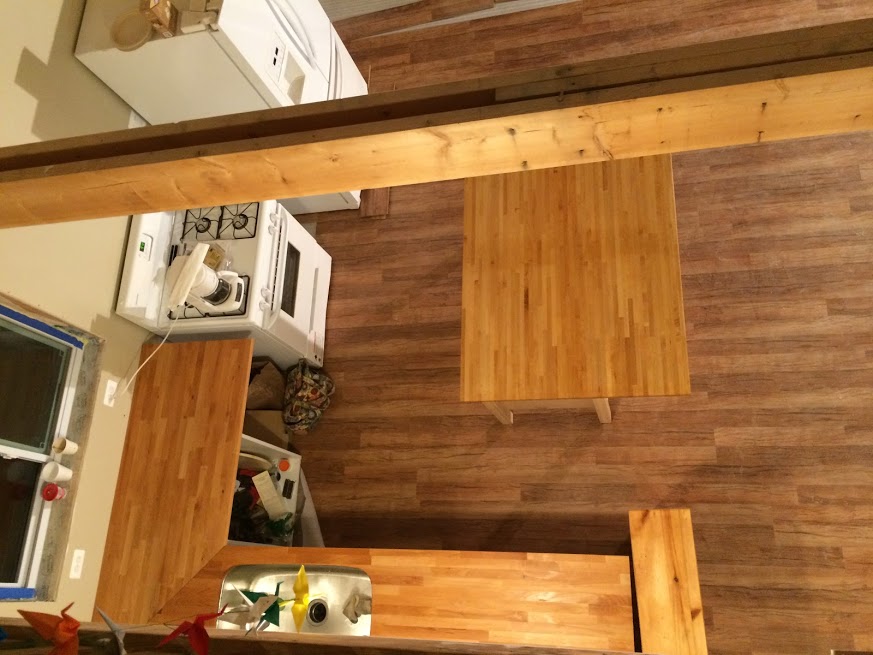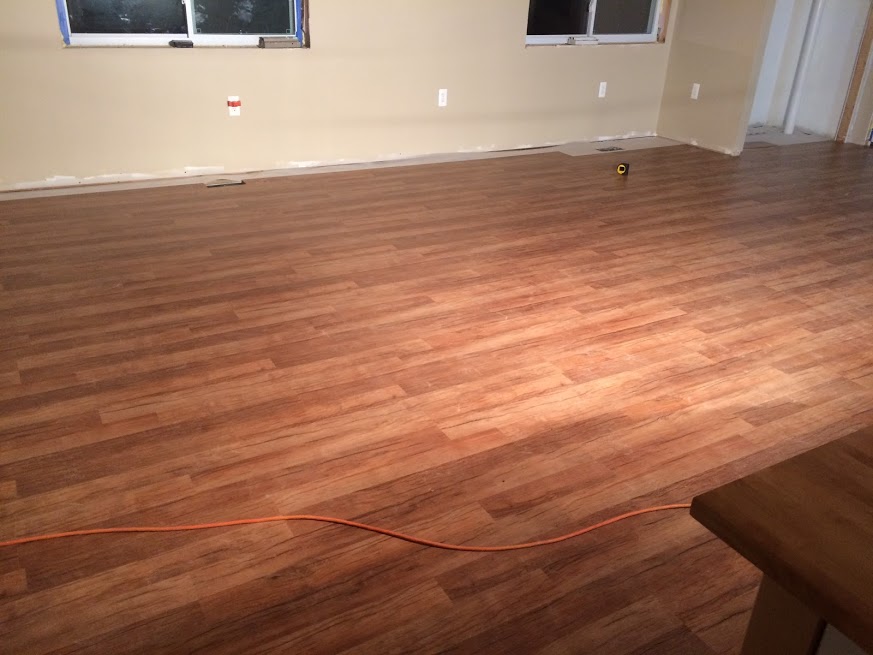 The next couple of days were really too exciting. I wavered between total overwhelmed happiness and a strange feeling of blankness, where I couldn't conjure up much of any excitement. The inspector came out, and he gave us our temporary CO. He said "Welp, she's not finished, but she's safe!"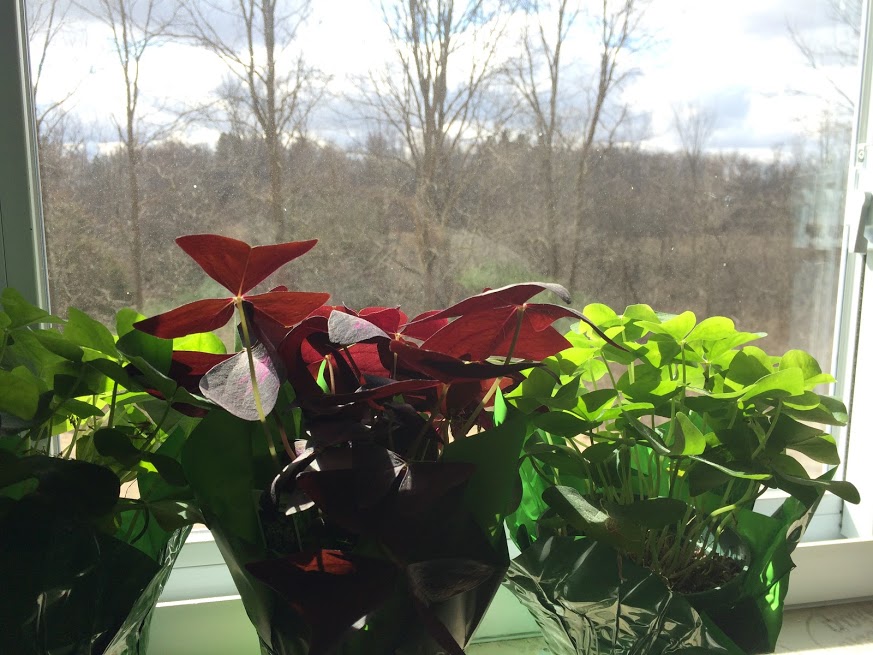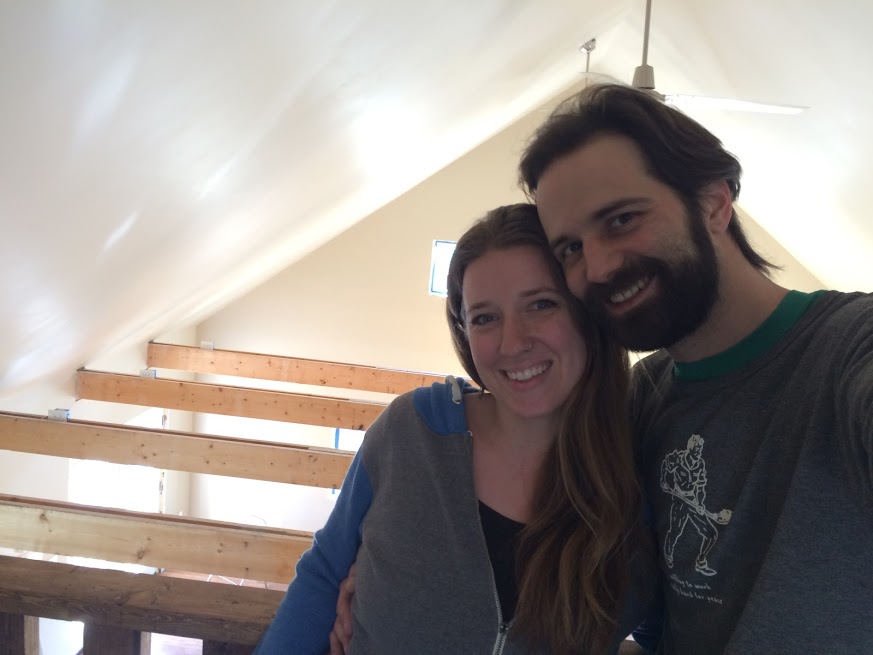 We ate dinner at the house with the kids around the island that day, and they started to play and Asa set up his tent and there were books on the shelf… stuff was still unfinished but I got smacked in the face with the realization that this is actually going to happen. That all this time and work and visioning and endurance was actually going to materialize into just life here and we can all be just in one place together again. I burst into tears and the kids looked at me like I was crazy, but Jeff understood and came over and gave me a long hug and we just soaked it up. What a ride, I tell ya.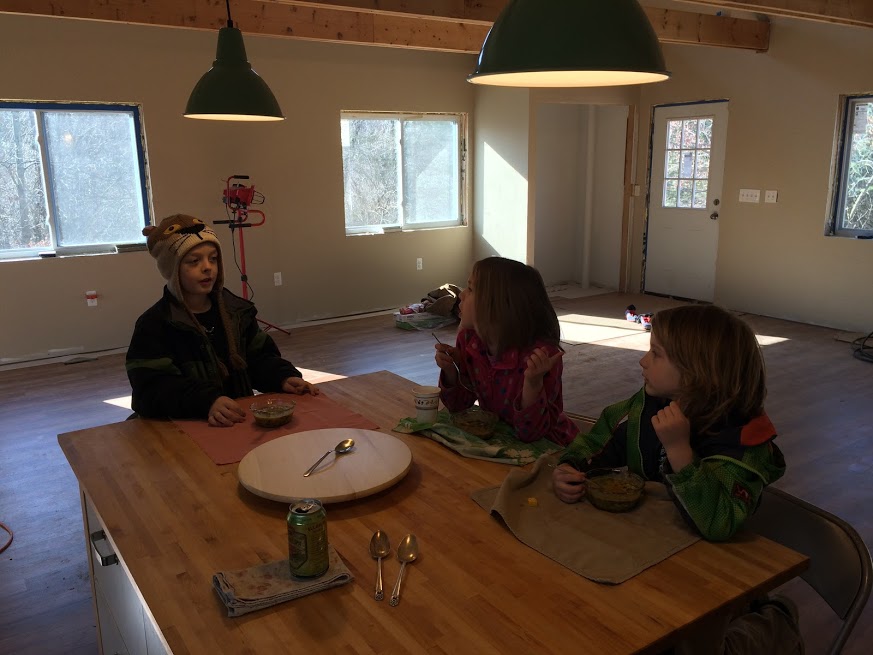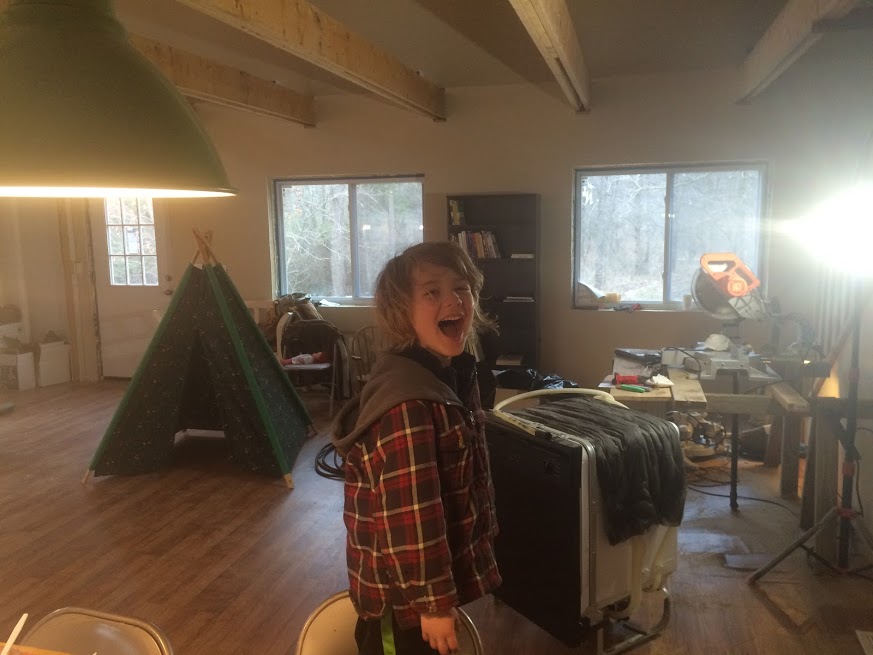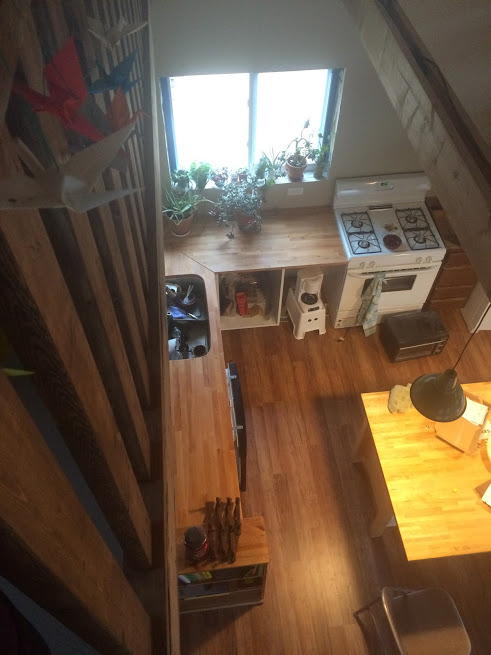 Moving was incredible. We didn't actually have to ask anyone to come help us. People asked us when we were moving, we said we were moving that Saturday, and then we just had offers! Everything was done by 3 that afternoon, and I was so grateful to all those people that day. It was the best move I've ever had, that's for sure. I looked in at Vera's space and it was set up almost completely. Her bed was made, she was setting up all her little toys. Love that kid.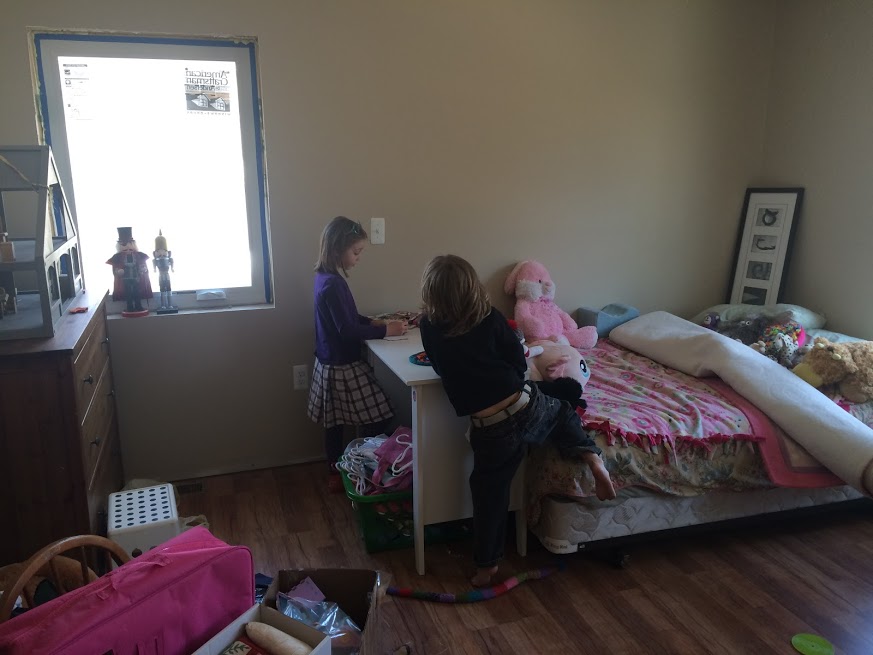 We got everything basically set up, with boxes piled in the corners but pretty sorted. It was sunny and warm and so Vera and Asa set up beach towels outside and sunbathed for a while.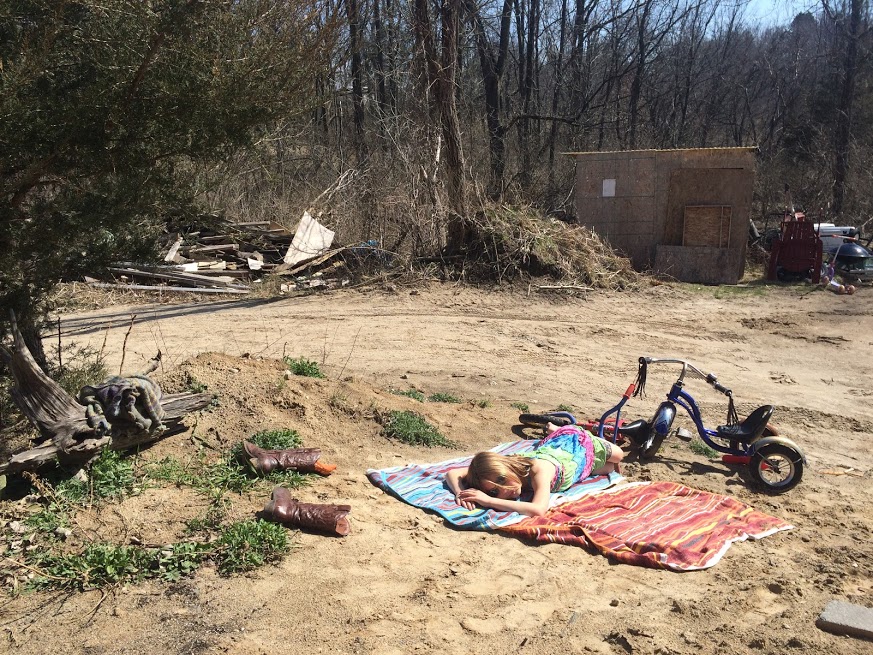 I got to work setting up our loft bedroom. It doesn't have a door on it yet, but I think it's pretty perfect. Waking up in the woods will never get old for me.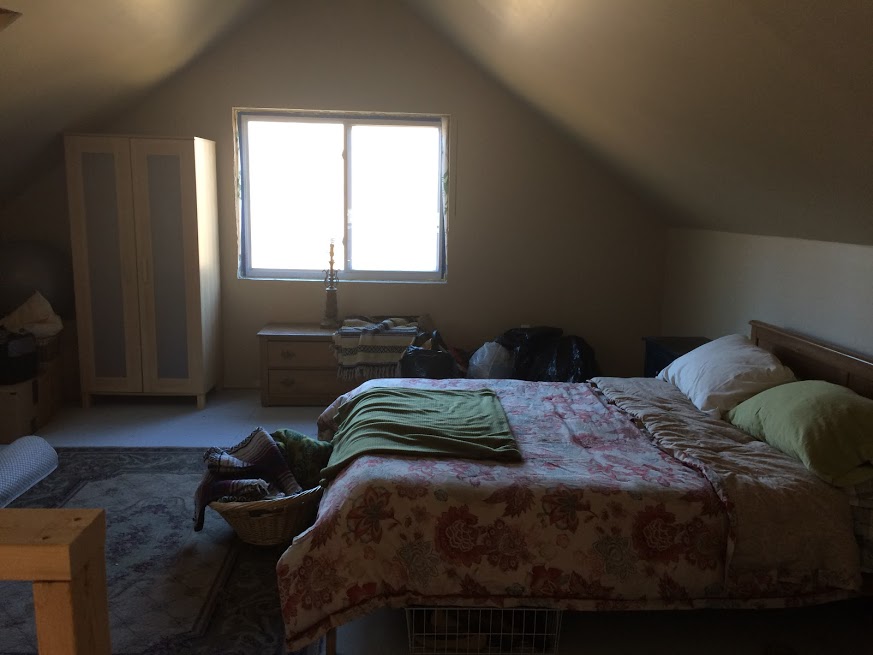 Below is the view downstairs that evening.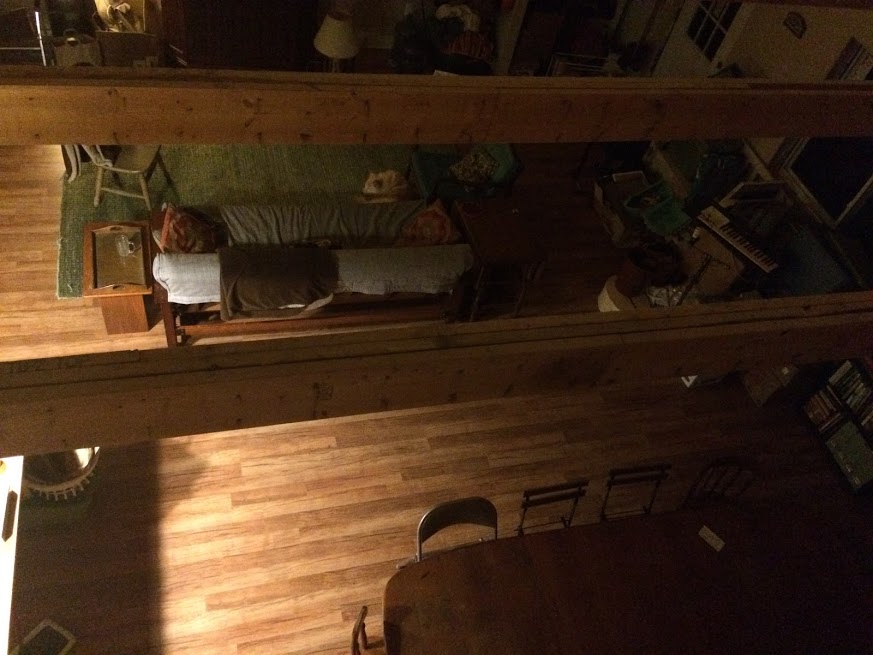 Of course, we're crazy and offered weeks ago to host Easter (which happened to be the next day!). I felt pretty relaxed about it though because I knew no one would mind paper plates and letting us off the hook for much in the way of cooking. Before we moved I made sure I had tablecloths close at hand. That morning we sorted a few more things and cleared space, and swept up, but that was pretty much it! Family came over, and we were partying it up in the house the day after our move.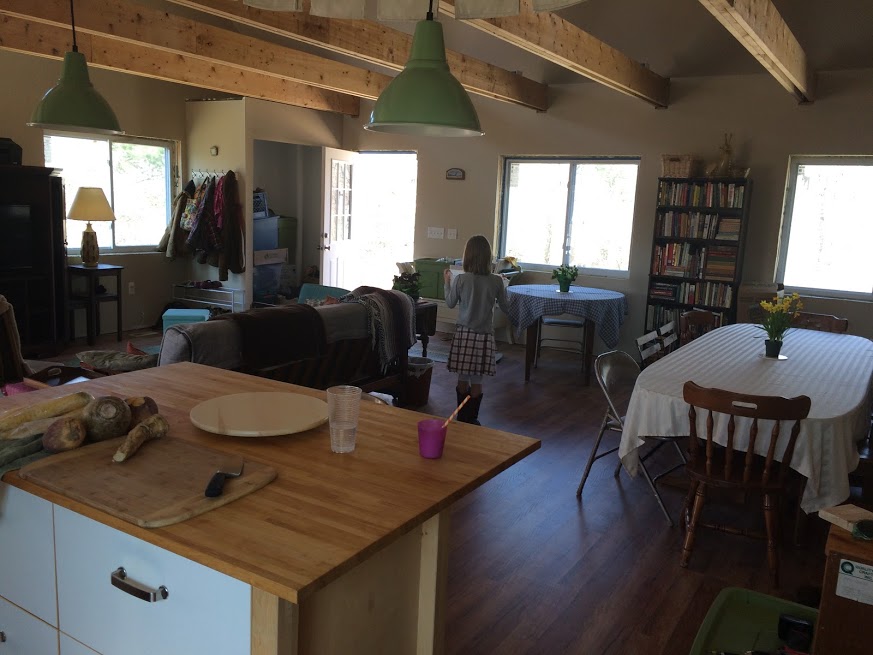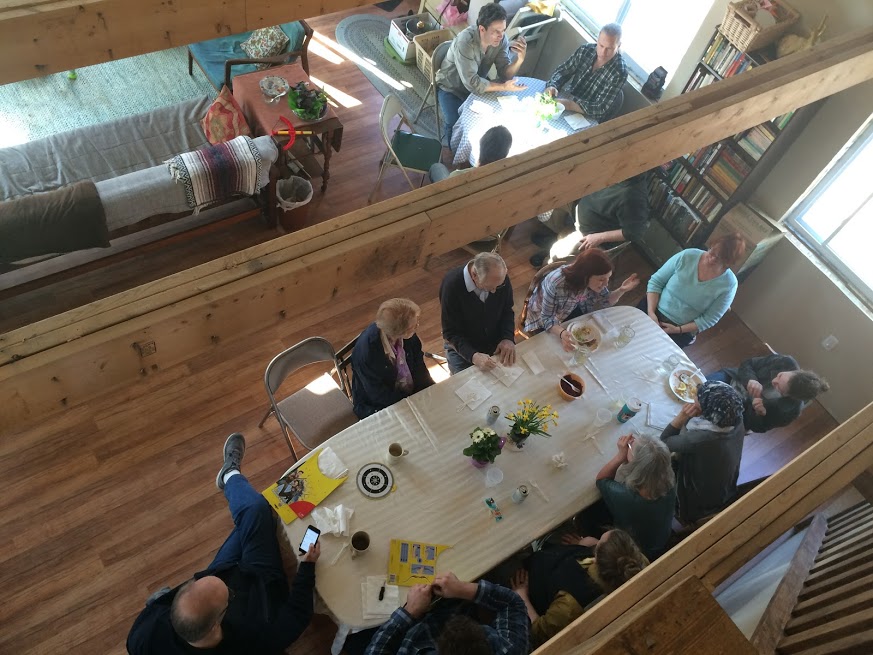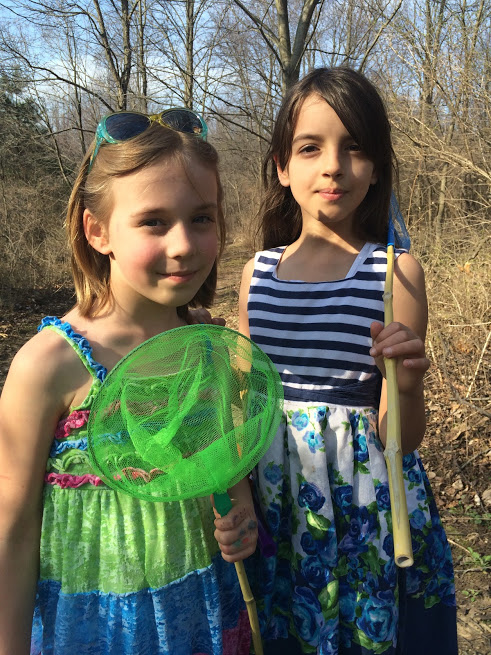 It was made extra special by the fact that my brother was in town from Texas, and it was close enough to his birthday to celebrate with family. We haven't done that with him in 8 years! Also, my grandparents and uncle arrived with the gift of the old dinner bell that used to hang at my grandparents house, which is now gone. This was super meaningful and steeped in family magic, since that house and their home was hand built 60 years ago and was very loved by every member of our family. It was just so special to be standing in another house built by hand, with our children and my grandparents, all standing around an old dinner bell that I'll use to call the kids in from the woods, just like my grandma called my mom and aunt and uncle when they were kids.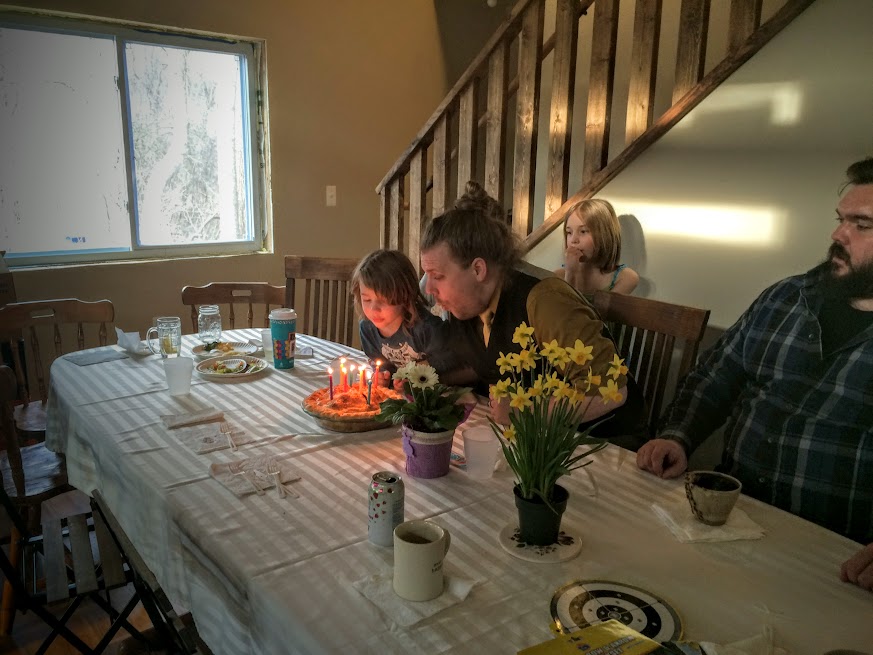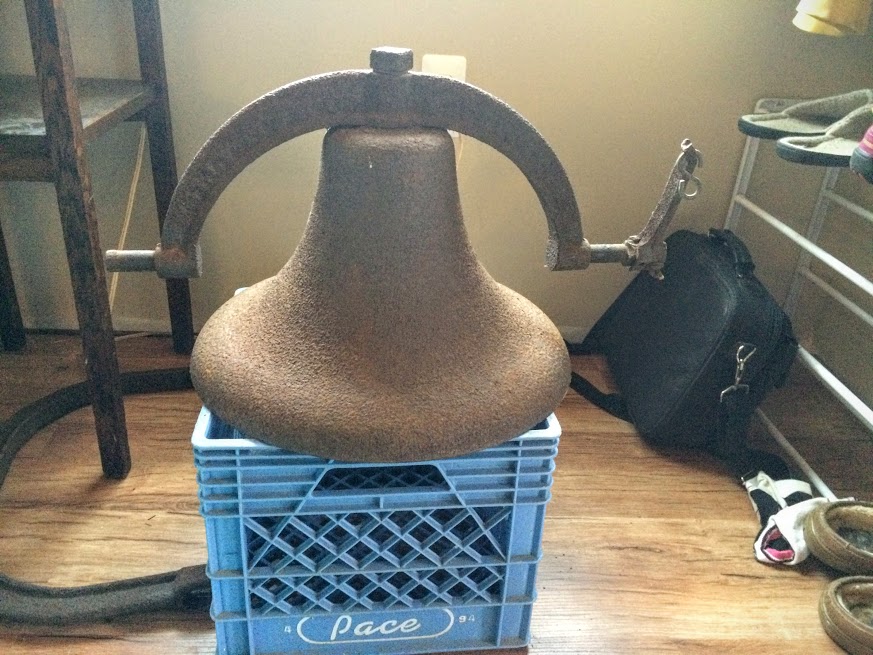 Things are settling. Now we're unpacking and getting things set up- shelves in the kitchen, clothes in dressers, washer and dryer hooked up. But also bonfires, cooking, games, crafting in jammies, sleepovers with cousins and early morning walks in the woods together. I genuinely hope to openly share this wonderful gift for years to come, and I'm so grateful to everyone that has helped us through this experience and process. I don't really have adequate words for that part, but hopefully those are enough to communicate my awe and thanks. <3