Warming up for new things.
Posted On April 8, 2009
Well, I've been laid off. John's dad's hours got cut significantly, so each of them are able to be home with him now. This is a good thing for them (I mean, except for the job part…), but I'll miss the little guy, and I'll have to find new ways to make some money. I hate thinking about money. I also felt kind of sad Monday after he left. I'll still watch him sometimes, I'm sure, and we're friends with his parents, so it's not like I'm never going to see him. But I guess I was really in the swing of things. I was making a little money, I had days off- which when you have nothing but "days off" it makes it seem like there are none, and I was good at watching him. He liked being here, and Vera had a regular playmate. It was a juggle at times, but I did it just fine. These things were good and helped me feel… productive. I just have to relearn how to feel productive on my own, which will certainly be helped by the spring and the garden. I can also focus my energy on getting into doula work, and I also have a couple of cleaning jobs lined up. All will be well. I think the winter is just done for me in my mind. I need some freshness, some growth, some new energy.
Garden planning is going well. I shot a little high thinking that I could set up shop in the basement and start my own seeds this year. I'll just be buying plants again this year, but I'm not worried about it considering all the work I have to do just to break down my old garden and set up the new one. Next year I will start my own seeds and think about that stuff. This year, just break ground.
I started trying out the Unitarian Universalist congregation nearby. I have some serious "church baggage" and it gives me a weird feeling to say that word. Church. They don't even call themselves a church, but still. I think it has to do with feeling really stifled in my adolescence, especially when it came to spiritual stuff. I hated being forced to go to church, and I experienced some things from other people that kind of turned me off from Christianity for a while. It was hard to feel safe in my spiritual questioning, and I was angry at certain people (and in some ways, the church as a whole) for bullying and invalidating me. I hated how intolerant they were. Eventually I matured out of it and realized that it was just those people who were screwy, not the whole faith. Now I feel really happy spiritually, and very freed up to believe what I do. I'm very "on the path", and I've been craving community (what's new, I know…). I wanted a community of people who aren't afraid to talk about spiritual issues, who feel passionately about social justice and peace and nonviolence, who are consistent and loving and good, who don't tell me that I have to KNOW the truth right now… It's so hard to get these people all in a room! Then my friend Katy asked me if I'd like to go with her, because she'd always wanted to try it out, and I jumped at the opportunity. I'd heard about it before, but it always seemed kind of like a new-agey place that's just like "oh, whatever works for you is just awesome!" and that's all I'd ever hear week after week. I realized that those are the things I'd heard from people who have never been there and frown upon it, just because.
I have to say, I like it. I've only been a few times, but it feels really welcoming. I am not afraid of what they'll teach Vera. If anything, they have a really great religious education program and will give her a real example of a group of people who are organized in the name of peace and justice. The things that are said there are not totally non-specific chatter about believing what you want, but rather specific messages about loving each other and taking care of our world. These are the things I believe in, and it's been really encouraging to see so many people coming together to share that and take action.
What's funny is that the people around me want to go now too. It's like a bunch of my friends have been craving the same thing, but didn't want to go alone or feel silly about it. Now Katy's boyfriend is going, my sister and her husband, Jeff, and our old housemate too. It's been fun.
Anyway, I heard this at one of the first services and I have it printed out on my fridge now. I love it.
—
Go in peace.
Live simply, gently, at home in yourselves.
Act justly.
Speak justly.
Remember the depth of your own compassion.
Forget not your power in the days of your powerlessness.
Do not desire to be wealthier than your peers
and stint not your hand of charity.
Practice forbearance.
Speak the truth, or speak not.
Take care of yourselves as bodies, for you are a good gift.
Crave peace for all people in the world,
beginning with yourselves,
and go as you go with the dream of that peace alive in your heart.
My sweet Maya. She's been loving her new yard, and she hardly ever wants to come in. I hate it on the cold days, because I'm sure she's freezing, but she will only come in for a minute before she's bugging me like crazy to go back out. I think she likes it here.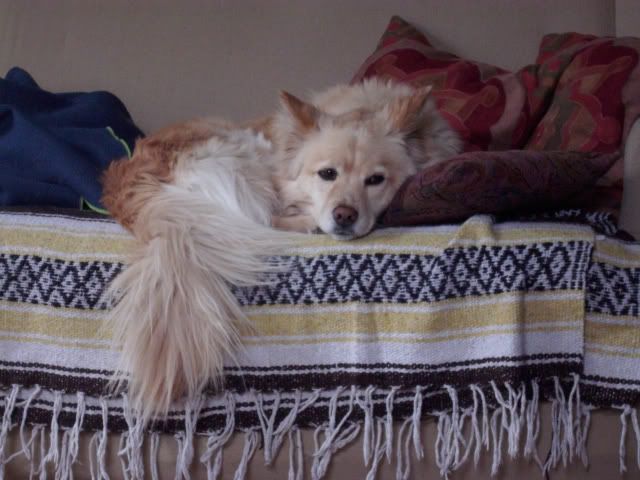 I love these windows.

Jeff's shoes.