Time for a change…
Posted On October 29, 2008
So. tired. lately. It seems like we get one or two restful nights before the next tooth comes in. It's hard to really notice the difference (between the rested version of me and the not-so-rested version, although I wonder if Jeff would disagree…) until it comes to my creative efforts. Writing, crafting, what have you. I go kind of blank and just stick to the basics. I clean and cook and walk around and talk. How appropriate to feel like a zombie come the end of October. Lack of a brain and all. I wish I had more gumption to write in here, but at least it tends to come out in a flood when I get the inkling.
I want to do something special for Vera. I know she's only, like, 8ish months old, but still. I want to do something for her so that in the future she knows how much I adore her. I guess I could do the traditional baby book- but in a non-traditional "by your momma" kind of way. Letters? I had a friend who's mom wrote letters for each year, along with pictures. That was all, no fancy stuff. But then I've known mommas who do the full on scrapbook pages and stuff. I think I would like to throw something together for her, so I keep a record of big events, pictures, funny happenings, and love letters to my baby. I'll have to send Jeff for some photo paper! I'm thinking this xmas I can get everyone in the family to write her a little letter about her first year in the family. All of her aunts and uncles and grandparents. I think that'll be nice.
I guess I just started thinking about it because she changes so fast, and yet I'll look back at old pictures of her and see a new dimension to her, a realness to her face that I couldn't see at the time. Each week reveals something new, and I know her a little more. Lately it's been her will. She has been throwing little fits- I think mostly because she's achey and tired and teething, but if you cross her… she'll let out a wail like she did at the start. I have this gut reaction to it where I hold her and look at her like she's nuts. I'm hoping that since that's my instinct it'll do some good… I also sometimes just hug her and say "Aw, are you mad?" I'm starting to sign to her and to little John, although I've heard it can take a couple of months to see them sign back. I'm doing signs for milk, more, eat, all done, and I'm sure I'll add more as we need them. I'm also officially one of those mommas that ends every diaper change chasing after her to snap her outfit together. She's got places to go!
I'm getting excited for this season- I'm loving to think about gifts and projects. I hate being holed up inside, and so I refuse. I will walk until it's too bitter cold, and when it's too cold I'm going out to visit with friends or run errands. That's why every year around this time I start hatching my plan for how to get through the cold gray season without feeling too… cold and gray. Even though this time of year is crazy for Jeff and I (with both sides of the family nearby, we just end up driving around a LOT. The last 4 years we've had SIX Christmas gatherings in the span of 3 days… youch), I'm choosing to ignore that part until it actually happens. I've been doing these grounding exercises- whenever I get stressed about a busy day or have a there's-so-much-to-do moment, I just stop and put my hand on my chest, close my eyes, and think "I am just here, right now, doing this. I don't have to do it all, I don't have to think about it all. I am only here, in this moment, right now." It's been really working!
I also can't wait to spend some time with my brother. I miss his firm hugs and his music and his voice. I love having a brother. I used to think I wanted a big brother- but that was back when Ben was really smaller than me, and he was an occasional torment. Now, he's just kind and fun and truly loves all 3 of his sisters and has that "big brother" quality I was always so envious of in my friends' families.
October 23rd:
She tends to not really like the car that much, but when I give her that plastic flower she's as happy as can be.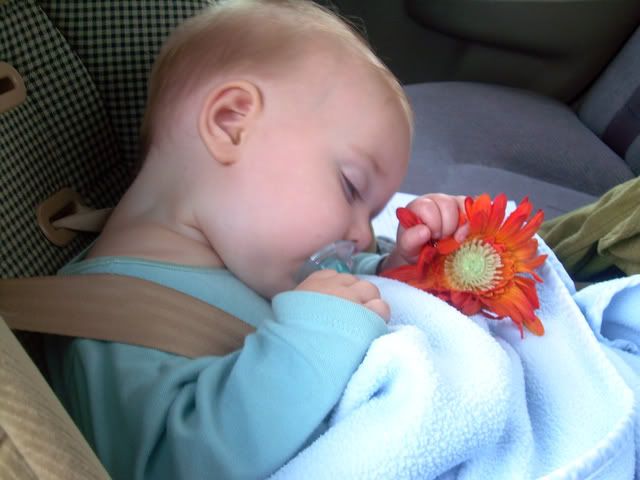 Oct. 24th:
The settings on my camera were all wonky for this pic, I'm not sure why, but I ended up liking how it looked. This is John and my usual view of him. He's almost always at my knees looking up at me. A cutie, eh?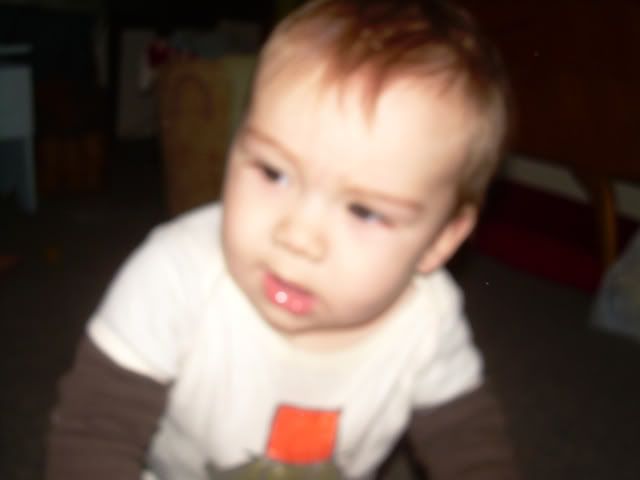 Oct. 25th:
My bundle of fur. I love this dog! I love her! She's got such a sweet face and a playful disposition. Shedding aside, I just can't get enough of this pup.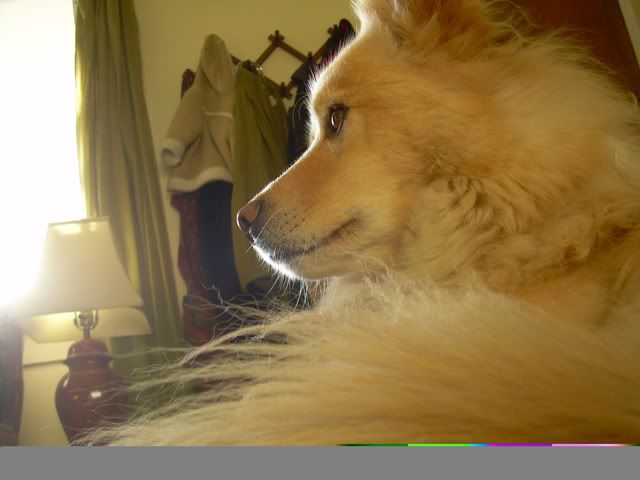 Oct. 26th:
One thing that always lifts my spirits when cold weather hits are all the plants that come inside. They make the house feel so good.

Oct. 27th:
Doug, Jeff and Vera. Playing.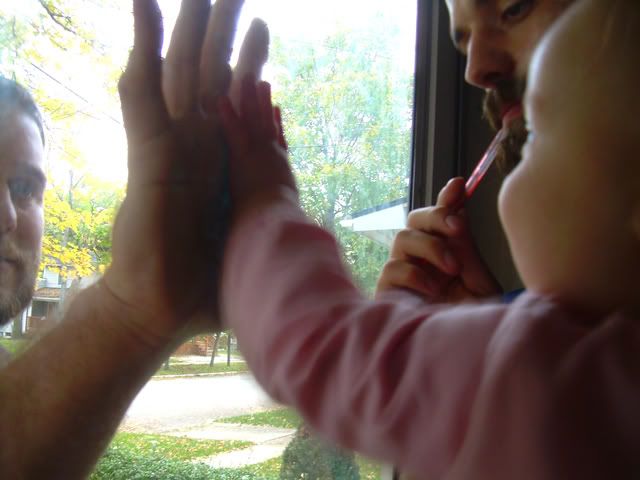 Oct. 28th:
My shamrock plant. I thought it was going to die just days after I got it in March. I was so sad, but it turned out that the container it had come in had no drainage, so it was drowning. Most of it died off, but it slowly came back until now it's healthy and beautiful. The leaves have started to turn purple, and every day when the sun streams in the windows (if we're lucky) all of the shamrocks turn to face it.

Oh. I can't tell you how excited I am for Tuesday. I'm calling this strange feeling in the pit of my stomach "excited", yes.
Quote of the day:
"Change will not come if we wait for some other person or some other time. We are the ones we've been waiting for. We are the change that we seek." -Barack Obama