Time flies
Posted On December 17, 2009
I can't believe it's been two weeks since my last update! I've been… preoccupied. Vera had a little bug that she had to work through- which generally means she just needs more attention more often, and sitting down to write doesn't really work with that. I do plan to get back into it, though, as winter is definitely here and it's a good time for writing and thinking. Mostly we're working on projects for Xmas, attempting to get the house more and more settled (lots of things in the works), and thinking about plans for next spring/summer. I think it's going to be a big year for us. Although thinking about it now, most years are big for us lately! One cool thing that's happening tomorrow is our first Endgame book club. I have no idea how it will go or what we'll do, but good people are coming, good food, and there will be some talk about important things- things we can't ignore. I'm excited, and I'll definitely do an update on it this weekend. Recently we were over at my parents house shamelessly posing the children in little Santa hats for their Xmas card, just like they did last year. It's amazing how such incredibly cheesy things are miraculously transformed into adorable when you have a kid in the mix. I just love them. I didn't really get any photos that weren't blurry or without a hand in front of a face, but I thought these were cute anyway.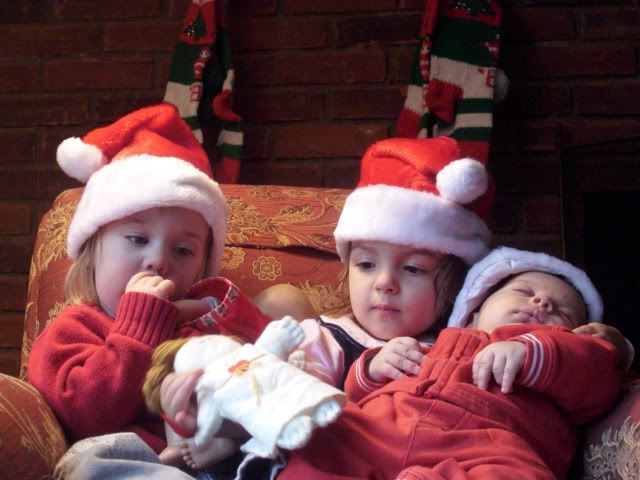 And little Max, almost 3 months already. He's so sweet.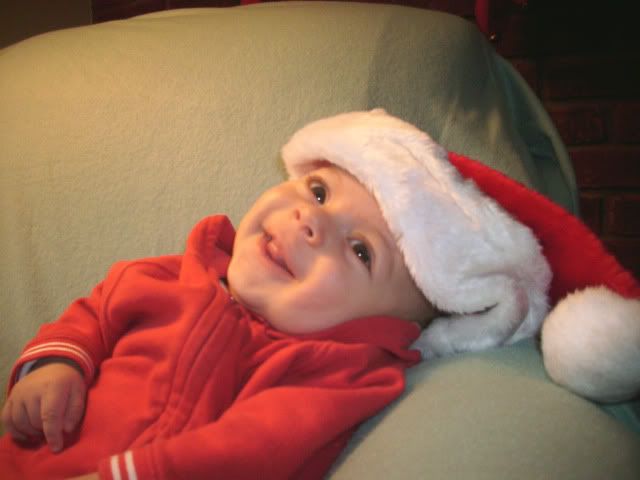 Lately I've been focusing on really nourishing food. Warming, with some freshness about it (whatever you can manage without many fresh veggies), easy to put together, etc. Soup has been a staple around here with all the turkey stock we've got. This was a soup that just felt really good going down. Homegrown tomatoes and squash, local corn, beans, and onions, homemade turkey stock, a good dose of thyme, cumin, salt and pepper, and a dollop of sour cream.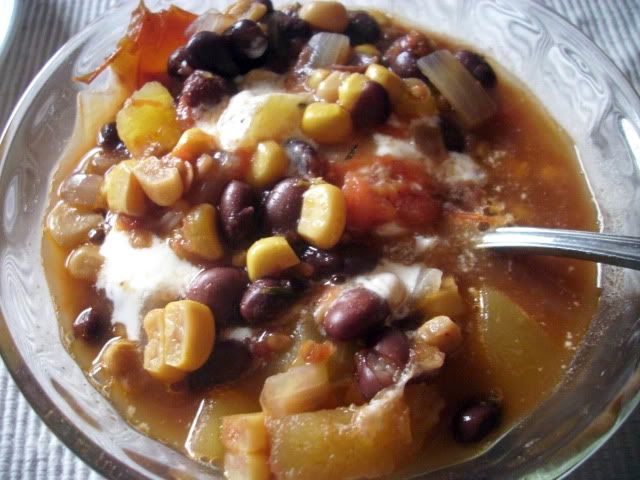 Homemade sourdough bread. They turned out perfectly! Although, the loaves are enormous, so I think we'll cut the recipe in half and just do a loaf a week. I threw some leftover cranberries in one loaf, and it was delicious.
I'm actually doing really well with my winter goals so far. I'm sprouting, making sourdough, and yesterday I made my first batch of crock pot yogurt. I'm also menu planning (which is completely awesome), knitting, sewing (just started back up), and doing the book club tomorrow! When I put it down on paper I'm much more efficient than I feel sometimes. Next month I'll focus on garden planning and scavenging and some more of the other stuff. I'd really like to take a class.
Vera. Spunky. So fun. Really hard to get a picture of lately. Says things I didn't know she even knew the words for. Her vocabulary is really developing, and I'm just amazed. I have a feeling she'll be talking my ear off before I know it. She's creative and firey and smart and so affectionate and I can't believe she's almost TWO.