Love is in my life… yes it is.
Posted On February 15, 2010
Vera's 2nd birthday was this past Thursday! We celebrated just as a family on the day, but had a big party with both sides of the extended family yesterday. It's hard to believe it's already been two years, but then again, it's hard to imagine her being any different than she is now. It does go by quickly, but always just right. I guess I'll just get to the pictures…
So… on the subject of "terrible twos", the other day I caught Vera having a flour party in the kitchen. I had left her for literally 10 seconds. 10 seconds of a flour party can leave quite the mess. Of course, like any responsible person, I ran for my camera and snapped pictures before surveying the damage! I mean, I did take the bag of flour out of her hands first…
What's up mama?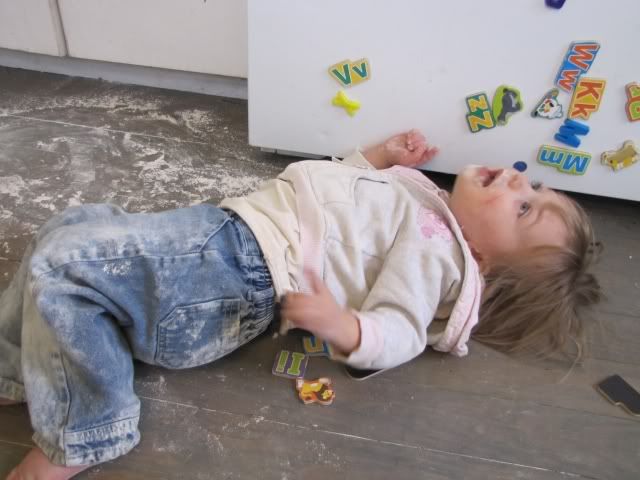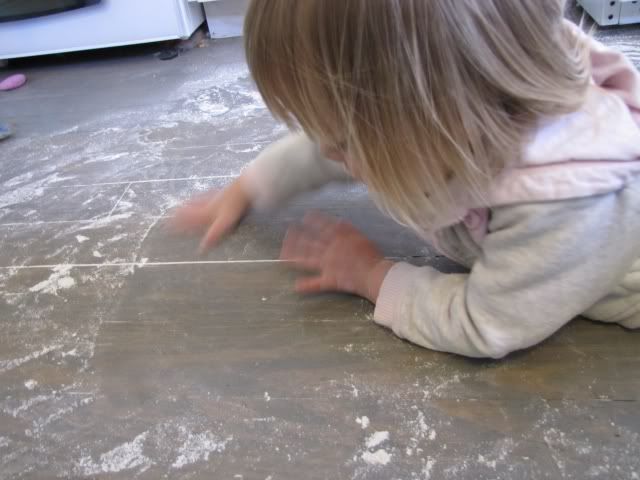 Yep.
Oh! Some before and afters… finally. They aren't completely finished, but it's a vast improvement. Basically, we moved. There were boxes. Then we unpacked! Mostly… Then we decided to convert our basement into an apartment for a friend. Woohoo! But then there were so many boxes that we had to actually DO something with. And there were also toys. Toys are crazy. They are really hard to organize well, and I also think that people generally have too many. V actually plays way more with her toys now that they are organized and are fewer.
Upstairs before. Just… stuff. Ick.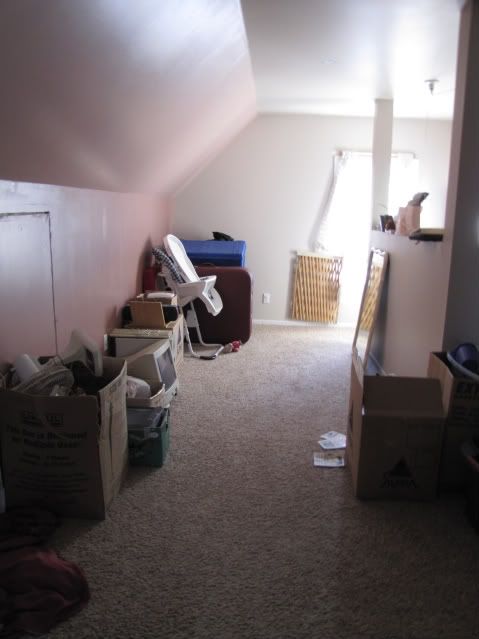 Vera's space, before: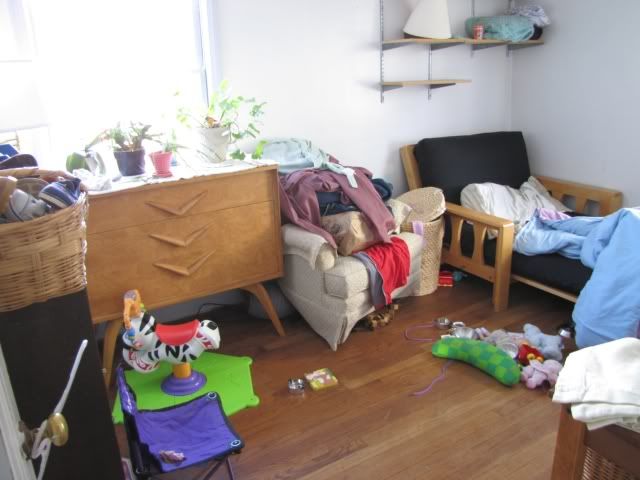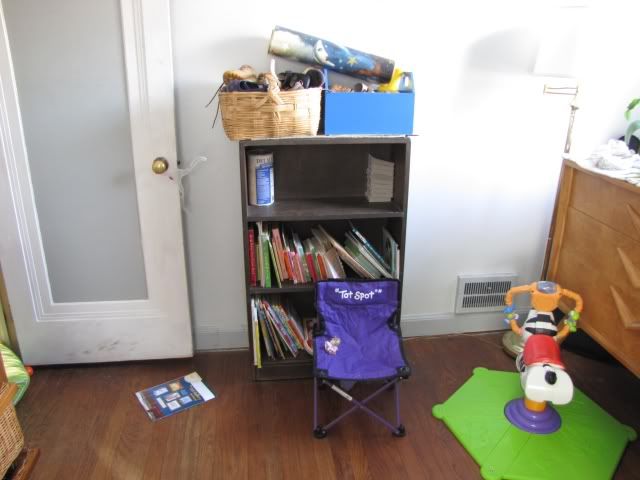 Yikes! It was crazy, and she could barely play in there. So the toys just ended up everywhere. So… I hatched a plan.
We purged/consolidated boxes and put them in actual storage. Then we moved almost all of the toys upstairs. Sorry about the dark picture. Anyway, it's not perfect, and I hope to get some cubbies or something to make it even better. But, for what it is, it works beautifully. The toys stay in the same general area, and they are pretty well sorted. There's dress ups and a mirror, kitchen/food play stuff, a little reading/rocking area, blocks and stacking toys, musical/instrument toys, a doll area, and stuffed animals. I also made a little fort out of an oversized box in the corner. It has a pillow and a blanket inside and Vera loves to hide in there.

And her room, after: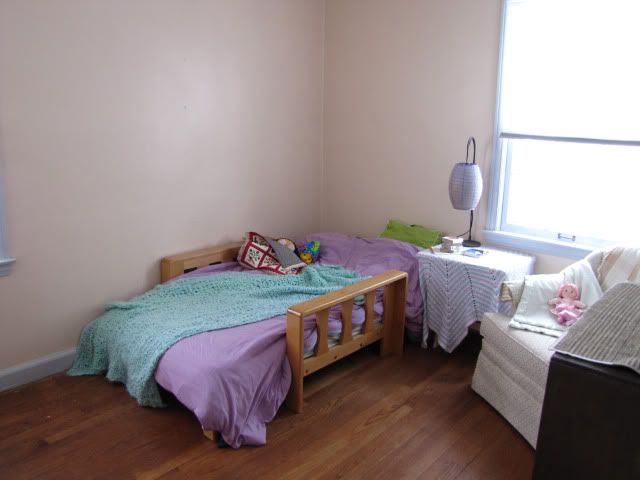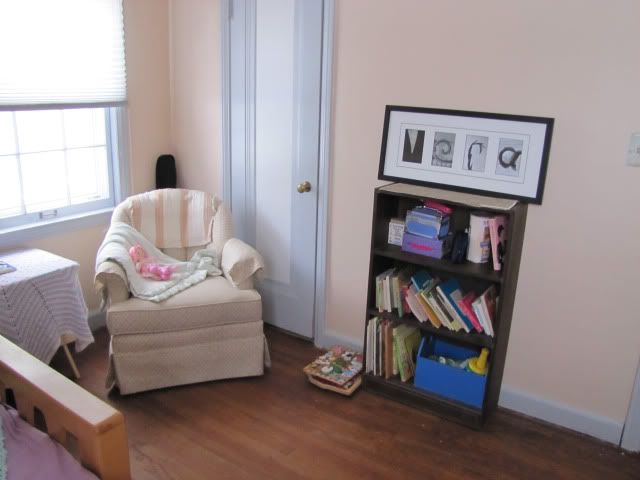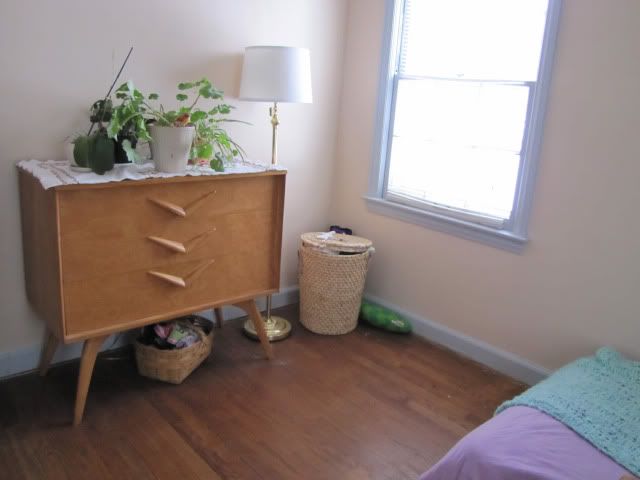 We painted and patched holes in the wall (there were SO MANY from the previous owners!). We set up the futon chair like a bed, too. We're going to start transitioning Vera to sleeping in her room, although I'm not going to push her. We'll start with naps and see how she does. It would be nice if she spent some of the night in there by the time baby comes. Our room is small, but we'll make it work if she's not ready. I hate the idea of her feeling all alone in a big room if she's not comfortable with it yet. Anyway, I'll put up more art and curtains and find a little rug. It should be nice for her! Also, just a few toys and books. I think this is better for a more restful place for her (and me).
Craftiness:
I have been trying to make more time for this for myself. I dug out this old scarf that I started a couple of years ago that I knew I was never going to finish (crappy yarn, not a scarf I would likely wear), and I made it into a headbandy thing for keeping my ears warm when my hair is up. I like it, and other people ask me about it all the time. Success!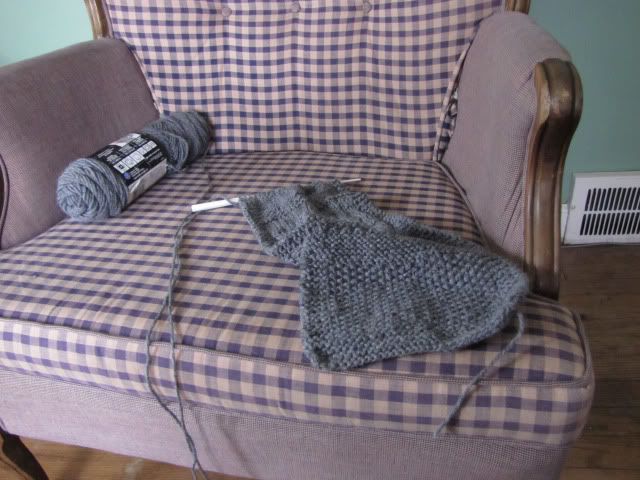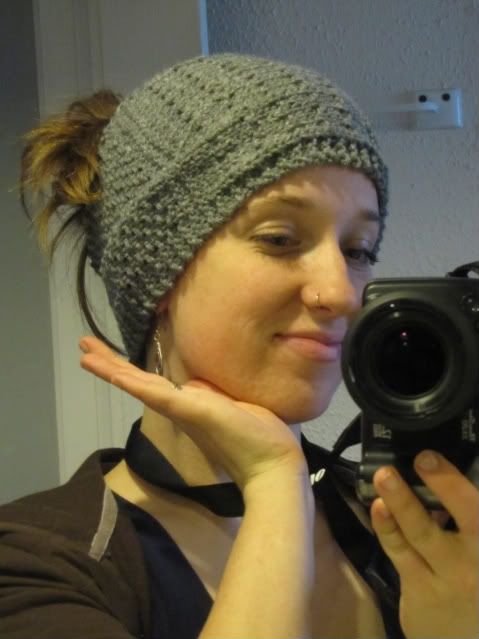 Also this weekend I threw together a "Happy Birthday" sign for V's party. It was a very easy project, and I see myself making many more signs like this. I also made Vera a birthday crown. Both of these projects were inspired by Soulemama, who is a wealth of creativity and inspiration! Her ideas definitely get me thinking and creating more. So fun!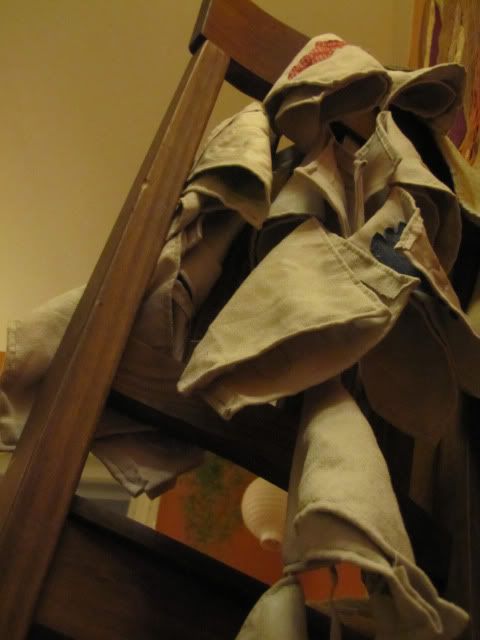 It was so fun, no patterns needed, and just used a bunch of scrap fabric. Everyone loved it!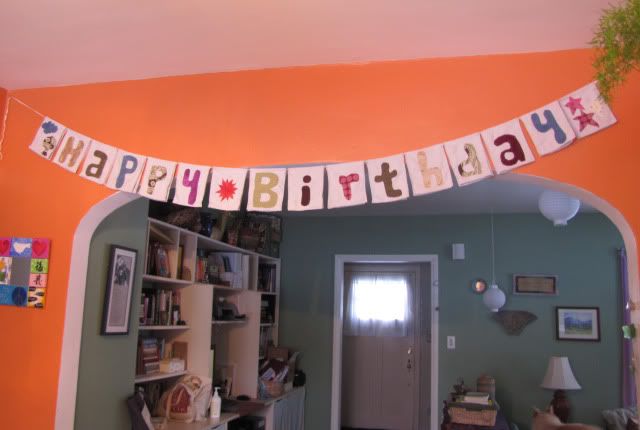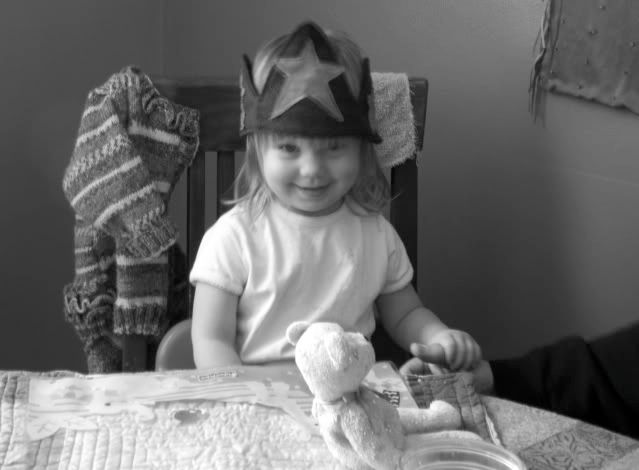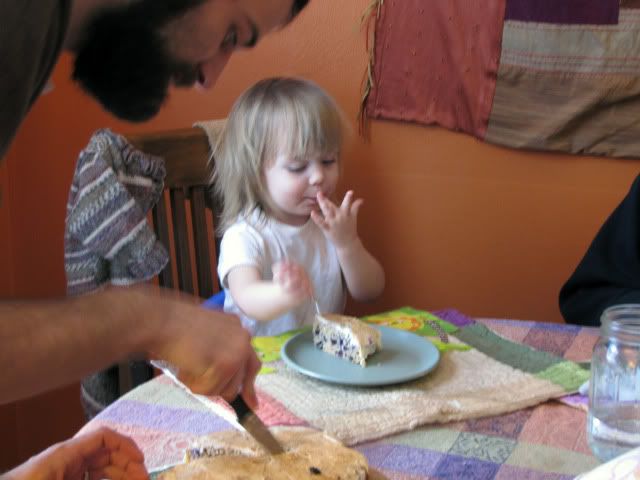 Today she's been totally into her presents- one of which was a awesome dollhouse with furniture. My friend Kate's daughter had outgrown it, so they just passed it on to us! So sweet! We painted it and set it up and it's a huge hit.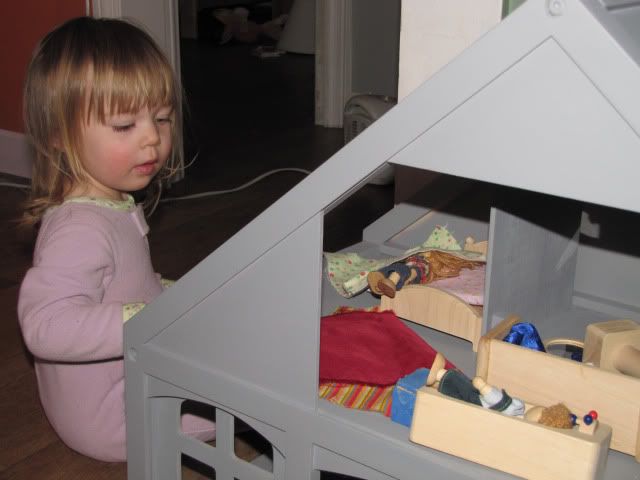 We also got Vera some fish. She really wants to hold them. I say no and move them higher up… She does like them though.

🙂