Heavenly day
Posted On August 23, 2008
I've started running again. It's hard, but I get that old familiar feeling all through my body- it's a rewarding ache that got me to love it before. My dad and I used to run together. He'd pull me out of my adolescent slump and get me moving. I remember feeling like I couldn't go any longer, and he'd encourage me and push me further. I'd always end feeling accomplished and lifted. He'd trick me and tell me we'd only gone 2 miles, and I'd pant and say "Seriously? Only two?! I can't do this!!!" In the end we'd have gone four miles, and I'd feel so proud of myself, and swat him on the arm for lying to me. He'd also point out wildflowers or birds and we'd look them up in his little pocket guides. I'll always know the blue chickory– it's one of my favorite wildflowers. Probably because I liked that day so much.
Vera continues to surprise and amaze me. She's becoming pretty mobile using what tools she has. I've been setting her on the floor lots and lots, and I'll frequently turn around and see that she's on the other side of the room facing the opposite direction, with her pacifier in her mouth (which was out of it before). This happens in mere moments. I'm amazed by her. She's also finding things funny (other than tickles), which is outright hilarious. Our friend who lives upstairs was out on his balcony and we were talking up to him from the backyard. She finally saw where his voice was coming from and would start laughing hysterically every time she looked back up at his face. I love love love love love my baby.
August 19th:
She had a fussy day- just one of those occasional bouts of discomfort or something. I rocked and shushed her and we laid together for a while. At one point I sat her up on my belly and she looked at me and cried. Then she folded forward and stuck her face between her feet and fell right asleep. These are the moments I hope I never forget. When I was a kid I was always folded up or upside down. My mom would frequently turn her head away only to turn back to a pair of feet flying in the air. I love that she's my little monkey baby.

August 20th:
My friend asked how the
"No-Poo"
thing is going, and I am happy to report that it's going very well! I did have some funky days, but now they are less frequent and, for the most part, my hair feels good. With the exception of using some baby shampoo on vacation (no conditioner though!) I am poo-free. It's actually kind of a relief. I don't have to worry about my hair much now, it stays clean for longer and looks good to me. Anyway. I did realize how crazy long my hair has gotten, and I think I'm gonna cut it and donate it soon. I love it, but it grows like weeds so if I don't like it then it won't be for long. It might be nice to mix it up some too.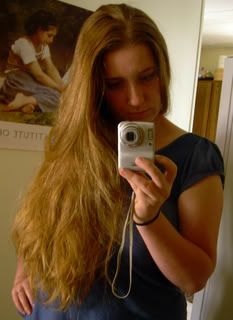 August 21st:
My sprout. On this day I cried because I love her so much. Probably also because I was rocking her while listening to this. Recipe for disaster.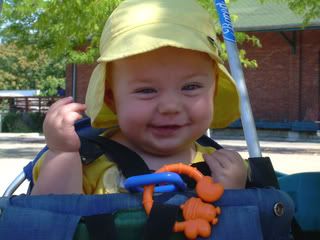 August 22nd:
One of my good friends went out of town for a couple of weeks and asked that I take all the ripe veggies from her garden and use them. She's got a massive garden, and so I went out yesterday morning and got all these. I'm gonna be making spaghetti sauce today in this heat… This is only the half of it, too. I got a whole grocery bag full of peppers as well.

Update- I have spent some really nice time with the friend I mentioned last time, and I'm feeling less isolated and more like we are just in different places and that's ok. I think I sometimes feel anxious about the changes that are happening in my life. It's best, though, to just take it in stride and stay relaxed. I feel better about it already, and I prefer to see this as an opportunity to bond with other people in addition to utilizing my existing friendships. Yes yes. good.
Quote of the day:
"We all have big changes in our lives that are more or less a second chance." -Harrison Ford