Another big ol' post. :)
Posted On November 16, 2009
This Saturday Jeff and I put the garden to bed for the year. I'm a bit sore, but I'm glad it's done. First we laid newspaper over all of the sod where we plan to expand the garden. Then we got a bunch of composted manure and spread it over all the raised beds and in the new area. Then we spread mowed leaves over the whole thing. It was funny, we were the only house bringing all our leaves to the back yard rather than out to the street. I harvested the beets and carrots finally, and the rest of the swiss chard. We also got our bulk meat on Thursday, so really we're set on food for the winter. The only things we'll be buying at the store are dairy and onions and potatoes and garlic, also staples like beans and grains. I plan on making all our bread and yogurt, too. I hope to get this into a pretty solid routine.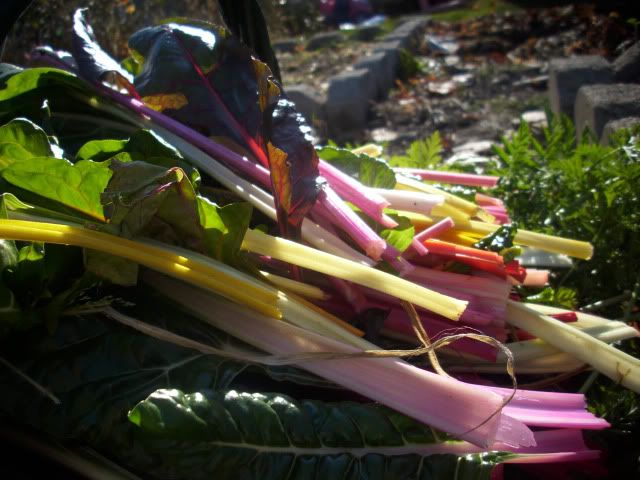 The finished garden, and what it will look like next year. The painted stick towards the middle is where we finally planted Vera's placenta. There's nothing like getting a years worth of meat to help you clean out the old stuff in your freezer. It's good though, fall is the perfect time to plant it. It was actually really nice, kind of ceremonial. We all stood around it (including Maya, who was extremely interested), and we told Vera all about how this was her jacket when she was a little baby inside mama. We told her she didn't need it anymore and that it can go in the garden now. She was very interested and kept saying "Vera. Baby. Jacket." It's now planted right between two (will-be) raised beds, so we'll put a step stone there (and decorate it) so we'll know where it's planted. I thought about planting it under a tree or something, but then I'd be all sad if the tree died or we moved, so I thought the garden was a better place to put it.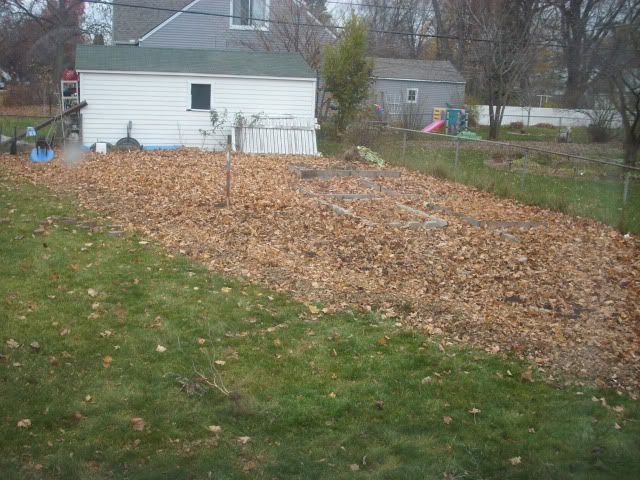 The expansion gives us room for seven new 8×4 raised beds, and probably a couple of 4×4 beds. Add that to our existing eight 8x4s and we've got… 512 square feet of garden space! This is not counting the other side (pictured below) of the yard where I'm doing a thick border of flowers and herbs and things like raspberries and blackberries. I'm hoping to supply myself with all of my own medicinal/aromatic/edible herbs and whatever beautiful perennial flowers I can manage. This is so fun!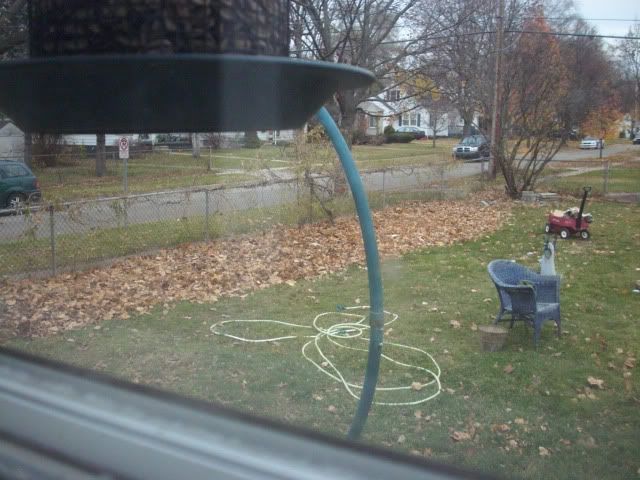 We're also getting our four chickens and building a combination chicken coop/greenhouse. It'll start just to the right of that white bucket (covering our little blueberry bush) and go back to the end of the garage. The plan is to build a supporting wall out of pounded tires and then build a small coop on the right end. The chickens will have a little yard all around the back of the garage and around their coop to the edge of the garden. Then the greenhouse will be the second much larger side to the left. And that white picket fence there? Our friends were getting rid of it, so we're going to cut it down a little (to about 3 feet) and have it border the whole garden (to keep dogs/little kiddos from pulling up freshly planted things like they did this year). Now that the physical end of things is out of the way for a few months, we've got to get going on our seed starting closet, planning the new garden, ordering seeds, making solid plans for the greenhouse/coop and getting them looked over by someone who knows what they're doing, etc.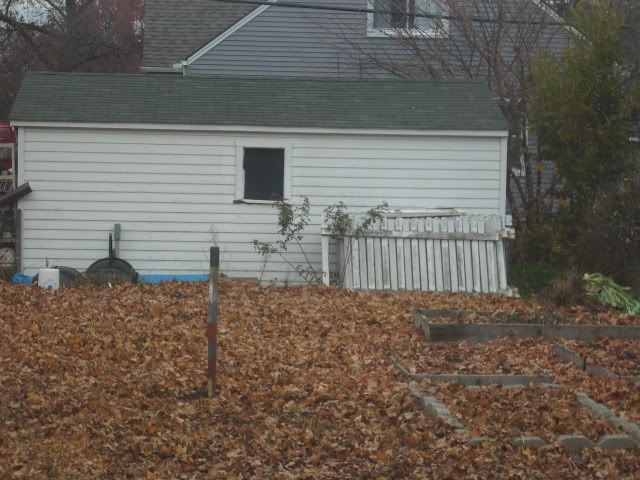 Menu planning is FUN! I love thinking about food… Here's the following week in food: Tonight is crock pot white chicken chili (made with leftover roast chicken, homemade chicken stock, pinto beans, homemade green salsa, homegrown swiss chard… yummy!) with sourdough toast, Tuesday's dinner is savory oat cakes with homemade aioli and green beans, Wednesday- beef stir-fry with veggies and homemade flat bread (made with soaked flour. See why here.), Thursday- egg drop soup and a sprout salad, Friday- stuffed acorn squash, Saturday- homemade mac n' cheese with sprout salad, Sunday- Crock pot corn chowder with biscuits (soaked flour) and sprout salad. Breakfast and lunches are generally simple and involve leftovers. Although I did find this new recipe for a breakfast that we all just love, and it saves time on days when we need some energy but don't have time to make a big thing. I didn't have all the grains the recipe called for, so all I did was soak oats, brown rice, and wheat berries during the day, then stuck them in the crock pot with water over night. Served up hot in the morning with butter, maple syrup, frozen blueberries, and a little raw milk. We all loved it and was a welcome change from our much-beloved oatmeal. It has really good texture and is surprisingly flavorful.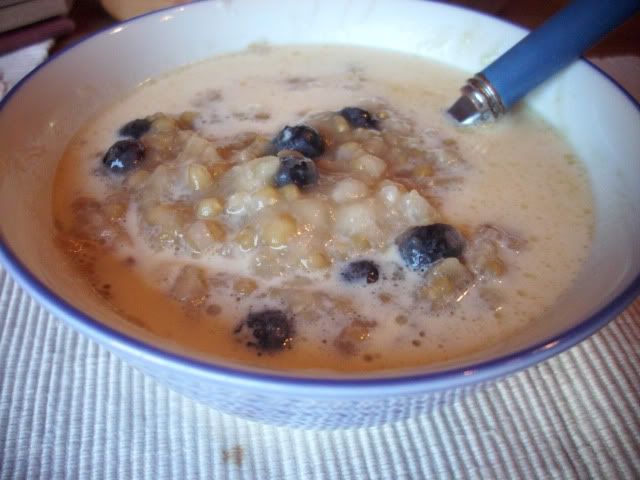 And finally I got around to getting a couple of pictures of the downstairs pantry, aka the "root cellar". This shelf has salsas and soup and squash, pickled green beans, and a tomato tapenade kind of spread that I made out of leftover tomato skins and seeds from the canning process (it's really good, and I'll post a recipe sometime soon).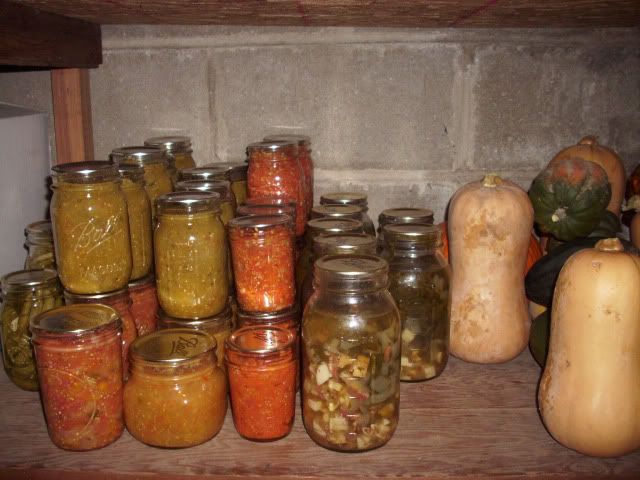 This shelf has tomatoes, tomato sauce and juice, corn, greens, applesauce, pear sauce, chutney, and some quince jam and jelly. It actually looks like less than it is in these pictures, the shelves are really deep and everything is stacked. Anyway, there's also some pumpkin puree up in the top left and lots of pumpkins in a box below. I froze most of the fruit I got this year, and there's sauerkraut still curing in the fridge. I wonder if we'll make it all year!
And last but not least, my thrift store find of the week- a round coffee table. It actually spins around like a lazy susan (Vera loves this), and it's less pokey than our old coffee table (cuz now I have to think about little heads banging into it!). Jeff's going to refinish it soon, and I love it.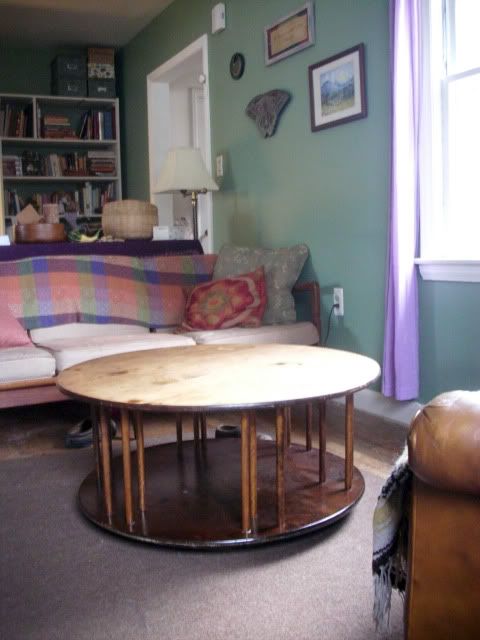 Quote of the day:
"We are indeed much more than we eat, but what we eat can nevertheless help us to be much more than what we are." -Adelle Davis